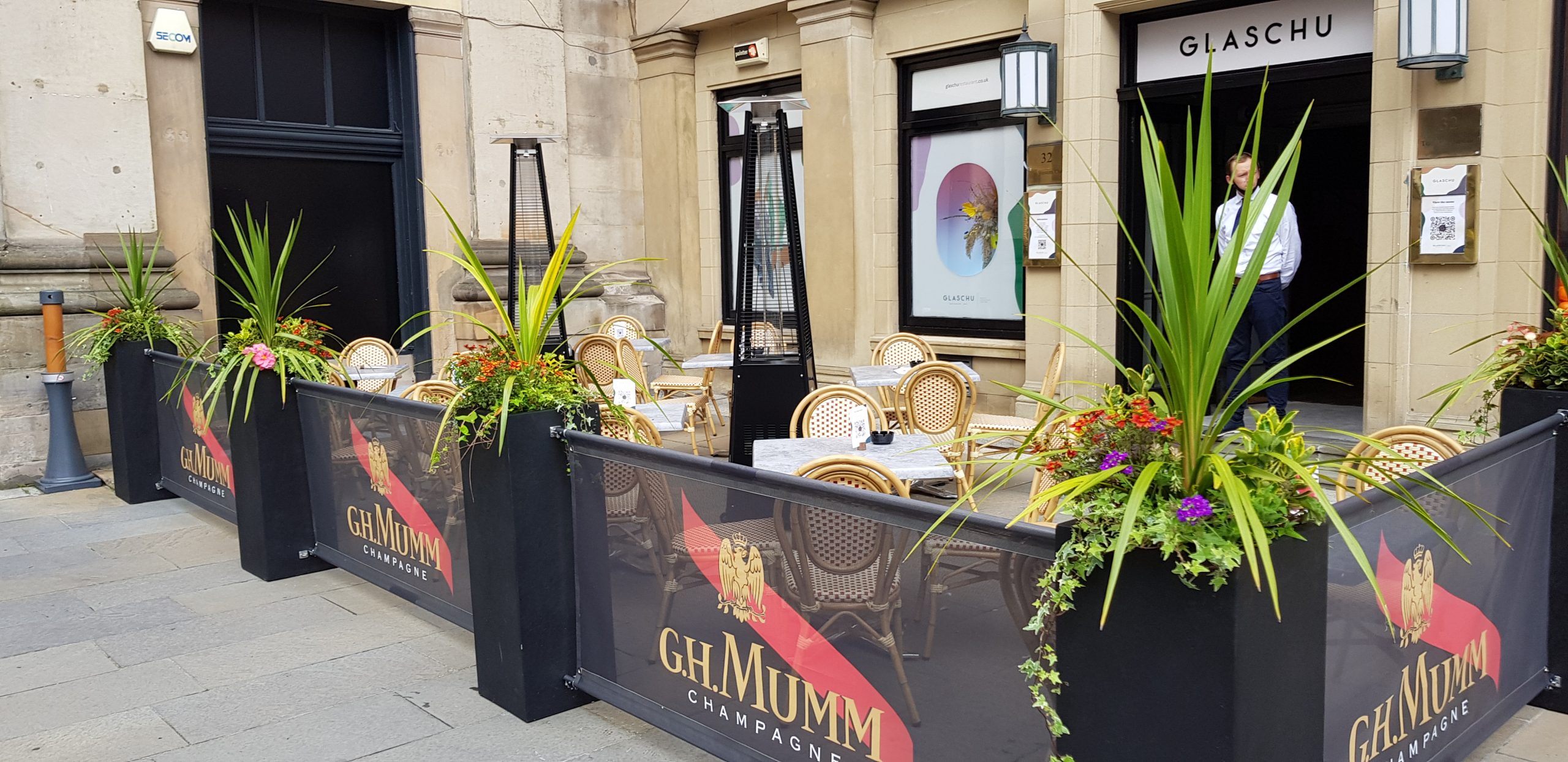 Outdoor areas have provided a lifeline for hospitality venues over the last two summers as businesses were forced to operate under a variety of restrictions. Whilst we hope for a much more "normal" summer in 2022, we expect outdoor areas to continue to provide a valuable source of income for hotels, bars, and restaurants alike.  
The benefits
A great outdoor area will increase the capacity of a venue and can provide a valuable source of income all year round – a key opportunity at a time when many hospitality venues are trying to recuperate operating losses. Bars or restaurants with an outdoor area that is eye catching and inviting can also pull in passing trade bringing new customers to the business. Following a great experience, these new customers may become regulars beyond the peak season and provide valuable word-of-mouth exposure both online and in real life.  A great outdoor area can also attract customers that might still be a little cautious about indoor spaces following the pandemic.       
High expectations
Many customers are now "outdoor dining connoisseurs". Due to the variety of restrictions the hospitality industry was forced to operate under, many consumers will now have experienced Al Fresco dining from a variety of venues. This experience makes consumers more knowledgeable and qualified to define what makes a great outdoor space, and their expectations will therefore be higher as a result.  
Websites like OpenTable and Bevvi allows users to view nearby restaurants and beer gardens specifying if they wish to book indoors or outdoors. Naturally, customers will research several venues on these platforms before deciding where to book, and making your outdoor area stand out from your competitors will give you a significant advantage. 
Success story
Times Square in the heart of Glasgow's city centre is a great example of how to elevate your outdoor areas as they were overwhelmed with bookings ahead of reopening after refurbishing their outdoor areas last year. Whilst this success can be partly attributed to a national thirst to socialise once again after months of strict lockdown measures; what was it that made customers visit Times Square ahead of other beer gardens reopening across the city? 
Seating was comfortable and sensibly laid out making social distancing possible in a way that didn't seem invasive. There was adequate shelter provided with parasols and plenty of heaters to ensure guests stayed warm. Plants gave the outdoor area a welcomed sense of nature in the heart of the bustling city centre and provided a degree of shelter. As more and more guests visited the beer garden and shared their experiences online, this created a snowball effect meaning a large part of their marketing efforts were outsourced to their own customers reliably establishing their position as the place to be for outdoor drinks in Glasgow.    
Implementation 
Any unused outdoor space is a golden opportunity, providing the appropriate steps are taken to ensure you get it right from the start.   
Check the ownership rights and any restrictions before starting. Local council websites are a good source of information on what is normally allowed and, due to the recent pandemic, we understand that some councils are considering cutting red tape for street venues and making it easier for bars, restaurants, and hotels to enjoy even more additional covers throughout the busiest season.   
Some of the things to consider is the capacity of the venue and services offered. This will guide the amount and type of furniture needed, and then map out how this might practically fit in the space. Other decisions will be needed such as what audio/visual equipment to use, ensuring the space has sufficient Wi-Fi coverage, any safety precautions, and then the whole visual aspect of branding, greenery and flowers.   
Whether furniture needs to be cleared away each night or if it can be left in position permanently, will make a difference to the features that have to be included. Furniture taken inside at the end of each day needs to be easily movable so consider materials which are durable and light. There are some excellent products with wheels or castors or other methods of moving them as well as some very compact styles.   
If floor space is at a premium, consider wall mounted fixtures and fittings like awnings or giant parasols and easily movable furniture for ease of storage. Ideally the exterior should match or at least feel cohesive with the interior design.    
Once you have clarified if you have any restrictions on your space you can then look at how to best use the area to maximum advantage.  It's a great idea to get some professional input into how to lay it out and what to do to make it into a destination venue.   
We are able to advise on many of the practical aspects of creating an outdoor dining space that not only looks great on day one but ensures a hassle-free, vibrant Al Fresco success in the long term. We pull everything together before coming to site so that when our team arrive they will transform your empty space into a whole Al Fresco dining area that is fully operational and looking beautiful in just a few hours!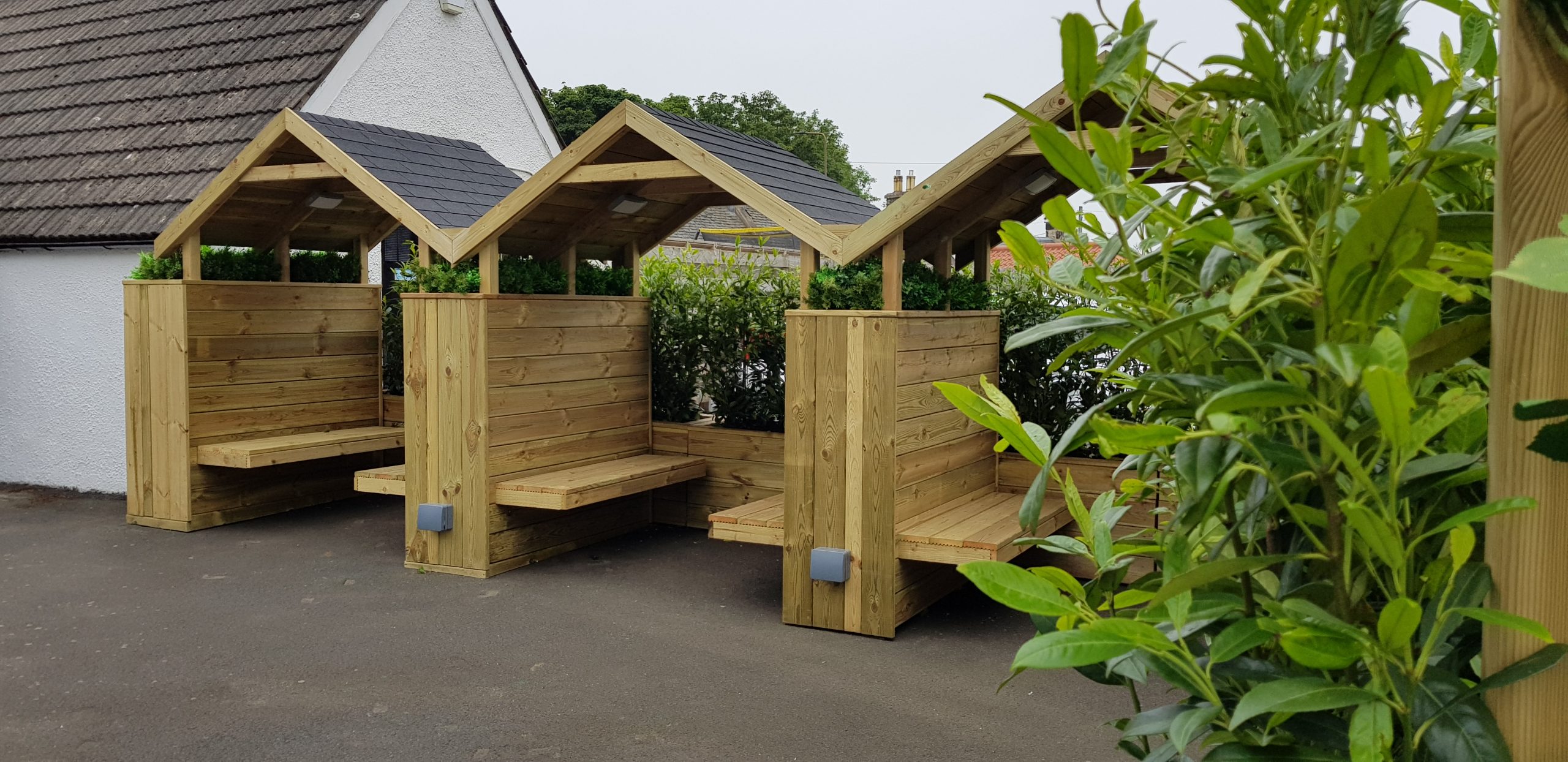 Built to last
Consumers are more inclined to continue to use outdoor spaces if the appropriate infrastructure is in place to make Al Fresco dining enjoyable whatever the weather. It is well worth investing in good quality equipment to ensure protection from the common weather conditions of rain, wind, low temperatures and dark evenings in the winter months.  Most items are easily retracted or dismantled for periods of nice weather and in Scotland we have the advantage of some of the longest summer daylight hours in the UK!  Things like plants, flowers, lighting, Wi-Fi and music can transform some of the most utilitarian outdoor spaces into really popular destinations. 
Avoid cutting corners and doing things as cheaply as possible. Providing a poor outdoor area could potentially damage the reputation of your main establishment and overall brand.  
Keep it fresh
It's important for venues and brands that outdoor dining space looks fresh and inviting.  An annual refresh is generally recommended although there are some very low-cost refresh solutions that can give a new look without having to replace everything.  Good quality parasols, awnings, barriers and furniture should only need replacing or refurbishing every 2 or 3 years.  We have a range of carefully selected 'UK proof' products, tried and tested to survive and thrive in our colourful climate! 
Trends
Bookings for international travel have yet to return to pre-pandemic levels meaning more staycations and an appetite to recreate outdoor hospitality experiences found in warmer climates, domestically. This has been reflected in the types of furniture used in outdoor areas and we are seeing demand for a wider variety of seating types such as swings, hammocks and sun loungers which are often associated with beach clubs abroad.    
Indoor vs Outdoor menues
Certain foods and drink typically served indoors will not always be appropriate in an outdoor setting. Restaurants are increasingly offering more limited menus in response to supply chain issues. This has made businesses more efficient by reducing waste and speeding up service time. Large menus can overwhelm the customer and lead them to question how well a restaurant or bar can possibly do every item on a large menu. 
Outdoor areas for all
Outdoor areas should be enjoyed by visitors of all ages, and you may want to consider providing facilities for our four-legged friends.  
Dog friendly pubs and restaurants have become increasingly popular in hospitality settings in recent years and can be easily replicated outdoors by providing water bowls, treats and a cosy corner for them to relax in.   
A playpark can be a safe and low maintenance way of making an outdoor space fun for children. Activities like table tennis, pool or even giant chess will keep older children entertained and can also be enjoyed by adults.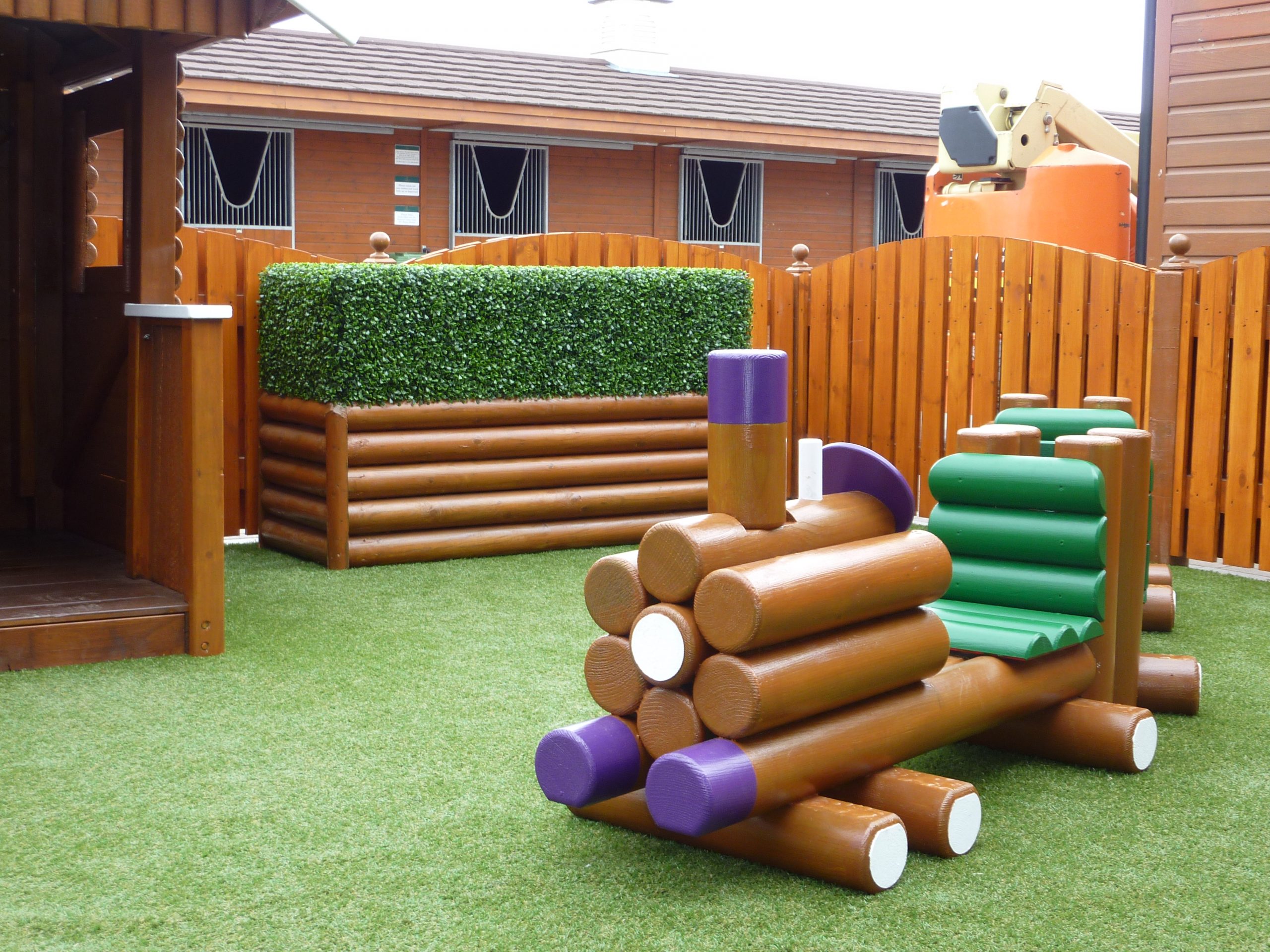 Get social
Once you have invested in an outdoor area – make sure people know about it! Engage with customers online and encourage reviews and feedback. Keep a keen eye on what competitors are doing with their outdoor spaces and embrace trends.  
Make it quirky and sharable. When considering the design of an outdoor area it is worth considering who the potential customers are and building in some Instagram-worthy features. The team at Benholm Group love creating interesting spaces that people want to be seen at and our bespoke plant & floral features have proven popular on Instagram helping to drive footfall. 
Consider working with influencers who can draw attention to your space in a more authentic way than traditional advertising methods.  
Work with a photographer or videographer who can capture the essence of an outdoor area in an engaging and professional way.  
If appropriate for the setting, hosting events can give consumers an extra reason to visit an outdoor space.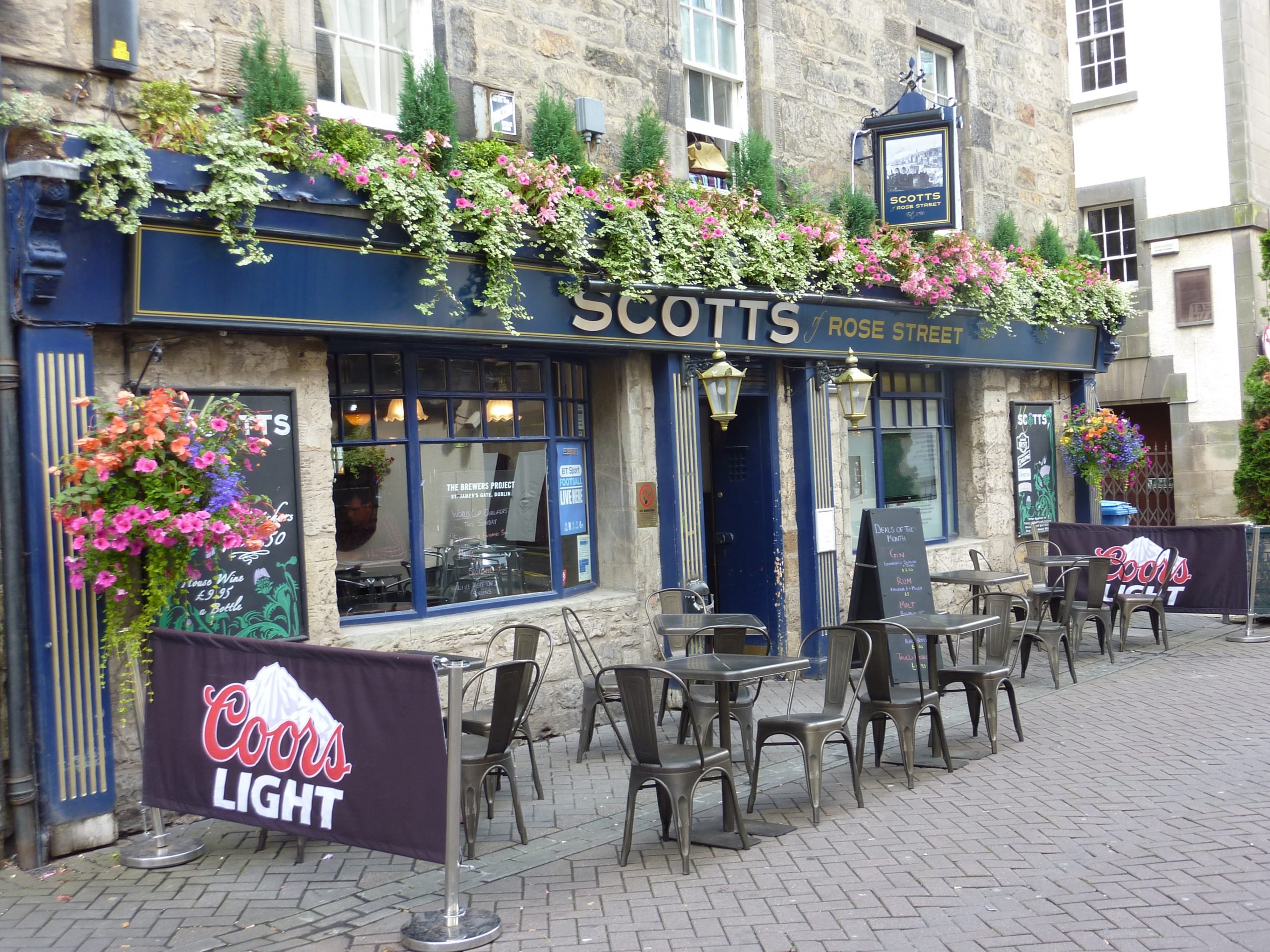 Don't delay