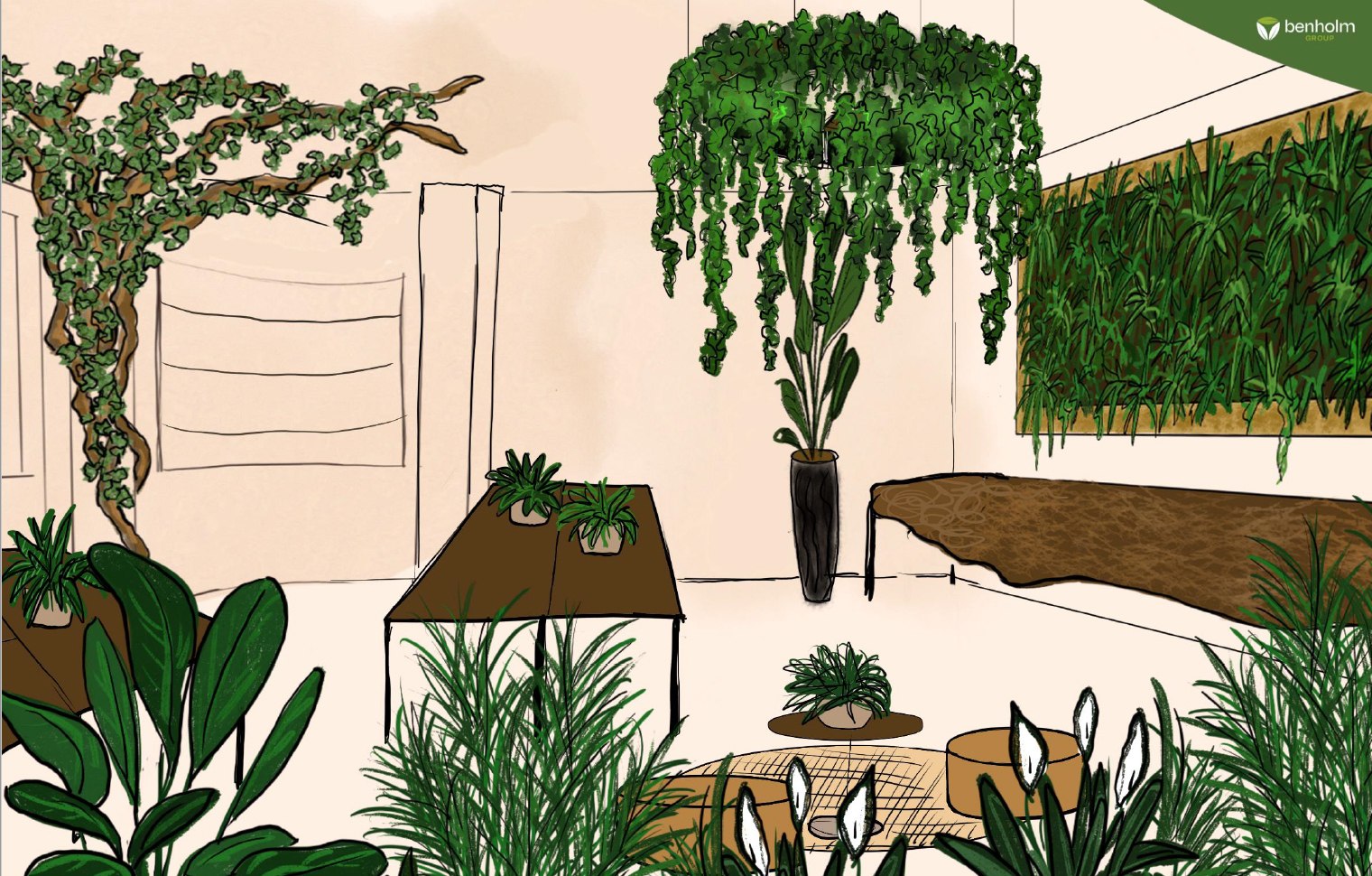 We are delighted to share with you details of our upcoming collaboration on a pioneering 8-week research study to understand the value of biophilic design. 
Biophilic Design – the use of plants in providing cleaner air and connecting us with nature, coupled with natural light, certain colours, acoustics, and fragrances – has long been proven to have a positive effect on both mental and physical well-being. For over 25 years, we at Benholm Group have pioneered the use of plants for interiors, not only as an eye-catching focal point, but also to promote the natural health benefits that being surrounded by plants can bring. 
This concept has now been brought to the forefront of a new research study led by Sustainability Lead + PhD Researcher, Joyce Chan-Schoof to question if we can apply a social and economic value to biophilic design; Can biophilic design add value to the workplace – not only through improving air quality and aesthetics, but can it have a tangible impact on employee productivity, retention, absenteeism, satisfaction, engagements and up-skilling?  
During an in-house pilot study, 6 participants will carry out their daily work at a designated workstation in a 30m2 office space at London based PLP Architecture. Over the course of 8-weeks the environment inside the office will be changed from an average office space into a multi-sensory experience by providing rich, natural stimuli to the participants such as lush, green, living planting (all provided and maintained) by Benholm Group, as well as access to natural light and outside views, new natural décor, patterns and colours, plus sounds from nature – a scenario that will be an immersive, biophilic 'wow' space. 
Our experienced design consultants will bring the office space to life with lush greenery, ensure that all plant species thrive in the climactic conditions of the room, and contribute to creating a healthy and relaxing environment for the participants. We have carefully selected a variety of living plants for the study including trailing plants, floor standing and desk-top planters and a living wall. Plus, our specialist maintenance technicians will be maintaining all greenery throughout the study to ensure they remain vibrant and healthy.

Fellow collaborators are Sustainability Lead + PhD Researcher, Joyce Chan-Schoof, PLP Architecture and their in-house research and development team PLP Labs, Biophilic Design Consultant Alexander Bond, and lecturer, author and expert in multisensory design, Professor Derek Clements-Croome. Together we will measure indoor environmental quality objective data throughout the testing period, and participants will complete questionnaires after each scenario change.
Our very own Adrian Byne, who has had the pleasure of working closely on the upcoming study, says:
"At Benholm Group we have long understood the value that plants can bring to every space. To have the opportunity to collaborate on a research study which will prove the social, economic and environmental benefits of biophilia for the built environment is a fantastic opportunity, and we look forward to seeing the results in a few weeks' time".
The research study is set to begin in May and will conclude in July 2022, after which time the findings will be launched during a special event and publication that we can't wait to share with you all.
Why not get in touch and find out how Benholm Group can incorporate our vibrant variety of plants into your interior space – from offices to restaurants to luxury hotel rooms, being surrounded by plants will delight and revitalise. Be sure to keep updated on our social channels and sign up to our monthly newsletter filled with inspiration, tips and upcoming trends. If you have an idea brewing, we're ready to bring it to life.