Biophilic Design has been consistently cited as a leading interior design trend for 2022 – but is it just another passing trend?
And more importantly, is it a trend worth following in your restaurant?  
What is biophilic design?
Biophilic design is the incorporation of nature and natural elements into the 'built' environment to nurture an innate human need to connect with our natural environment. By following biophilic design principles we have helped numerous restaurants to create aesthetically pleasing environments that simultaneously enhance the physical and psychological wellbeing of those who occupy these spaces.  
Below we have detailed methods of implementing biophilic design in a restaurant setting to help your premises to stand out in a competitive market and improve the overall dining experience for your guests.   
Visual appeal
The most instantly noticeable effect of biophilic design is the visual impact it can have on your restaurant's premises. 
A warm welcome speaks volumes. Some beautifully arranged entrance planters, perhaps with seasonal flowers, help to create an aura of prestige and immediately give your customer confidence in their decision to dine at your restaurant. Using plants to complement the exterior of your restaurant can also help to give it 'kerb appeal' and pull in passing foot traffic or encourage passers-by to make a mental note to visit in future. 
Apps like OpenTable allow customers to carry out extensive research before deciding where to eat. According to Truly Experiences, up to 90% of consumers in the UK will research a restaurant before visiting – more than any other business type. An interesting biophilic design can give your restaurant the upper hand on these platforms and influence potential customers to visit your restaurant. 
In the age of social media, diners are increasingly looking for sharable content which we have helped to deliver for restaurants of all sizes across the UK. We have experience in creating 'Insta-worthy' features for hospitality venues such as floral frames, selfie walls, vintage bathtubs overflowing with blooms, hanging birdcage chairs, and even flamingos made of flowers. These bespoke displays have given the hospitality venues we have worked with that wow factor and became a recognizable part of their trademark.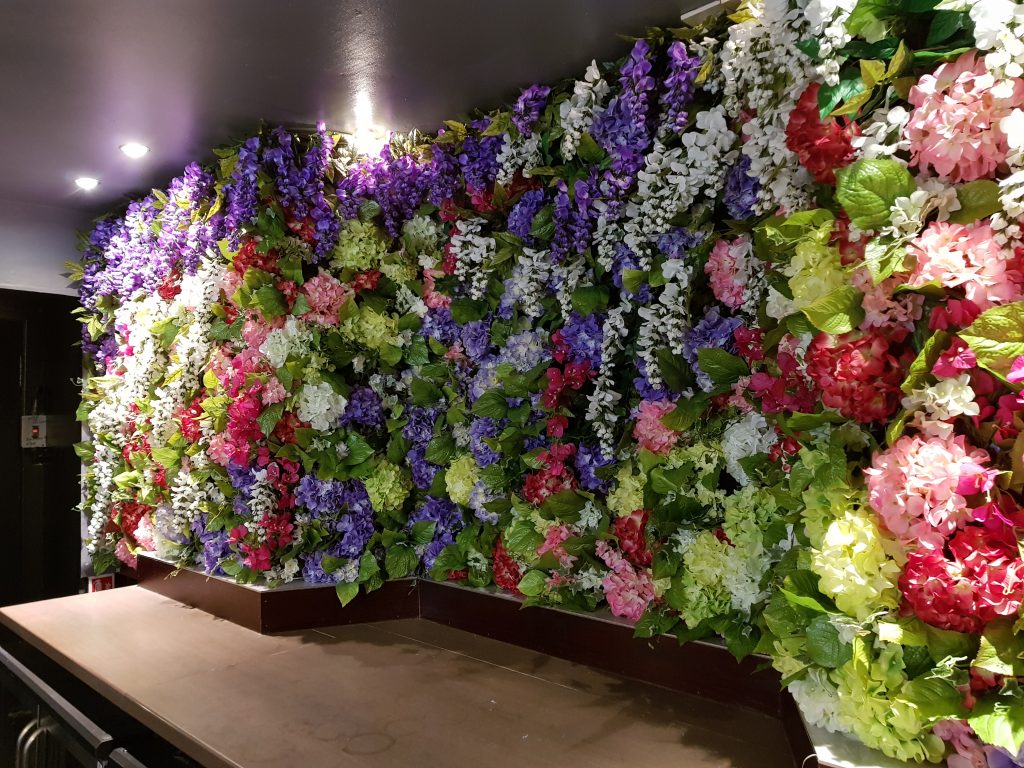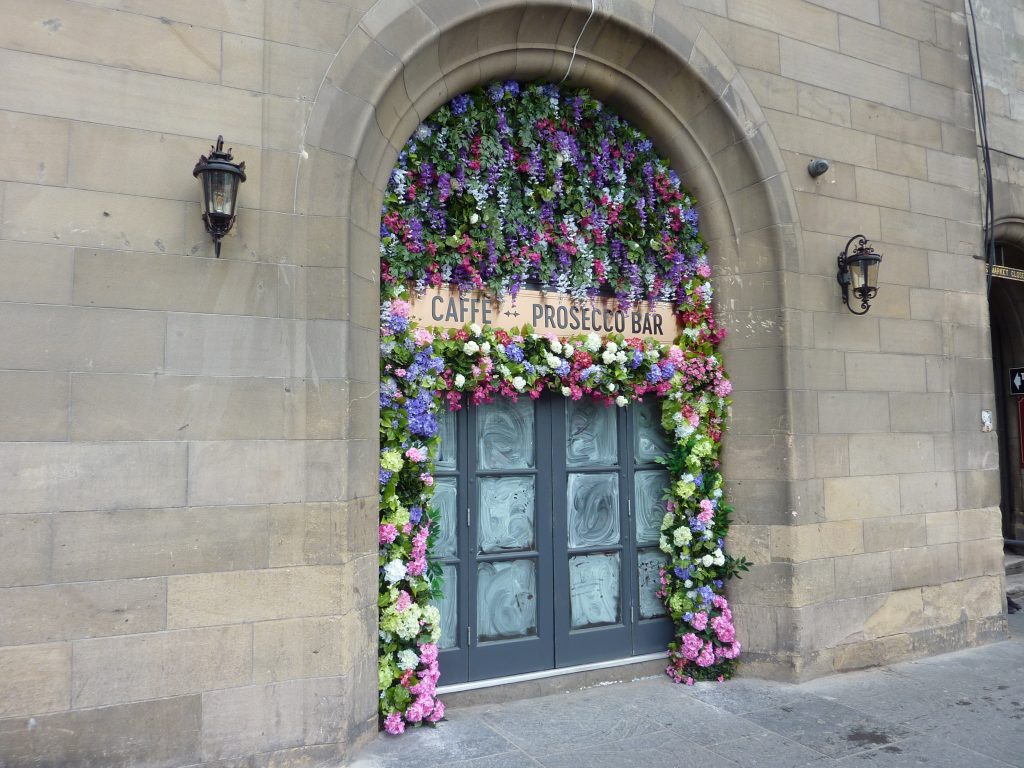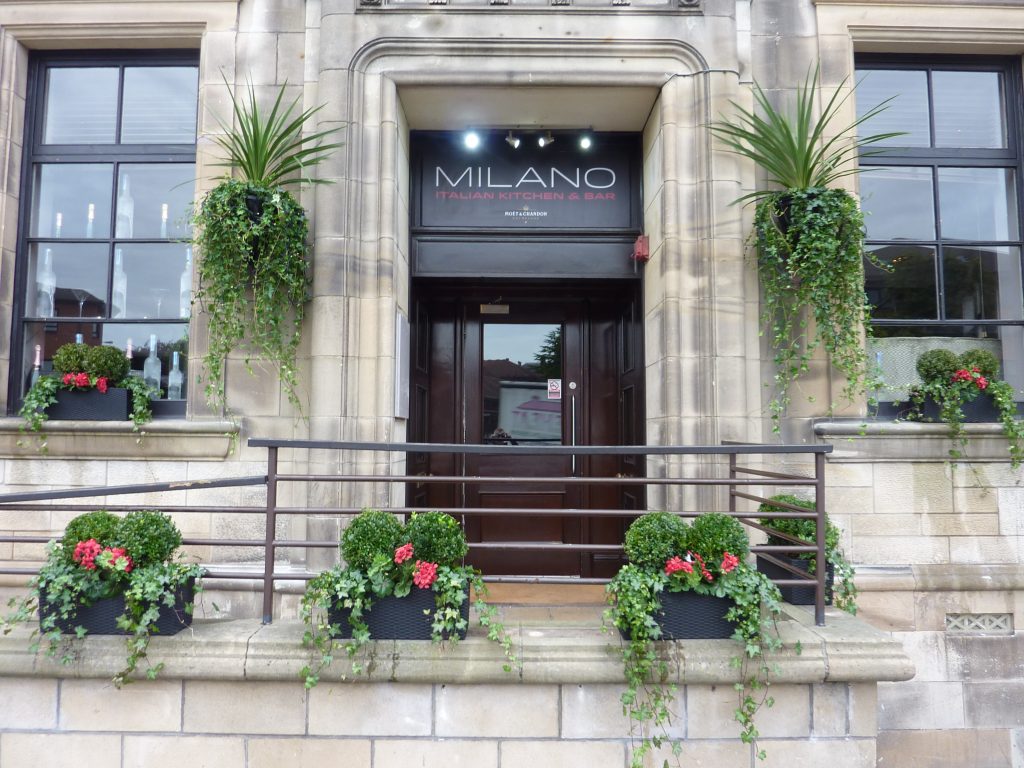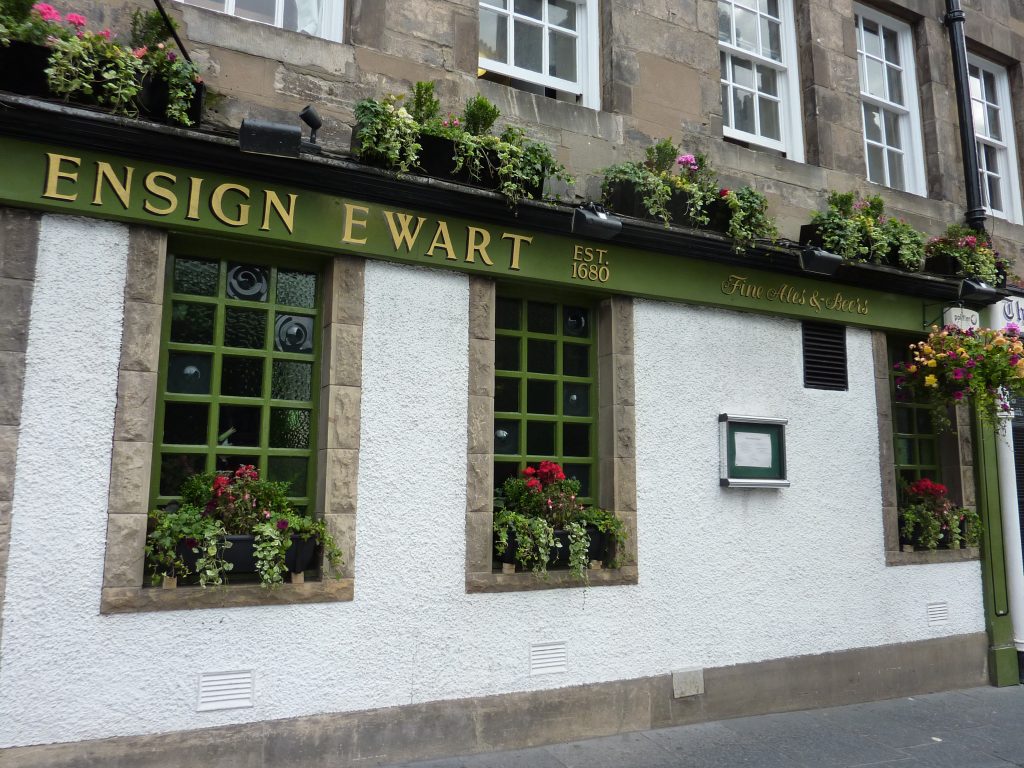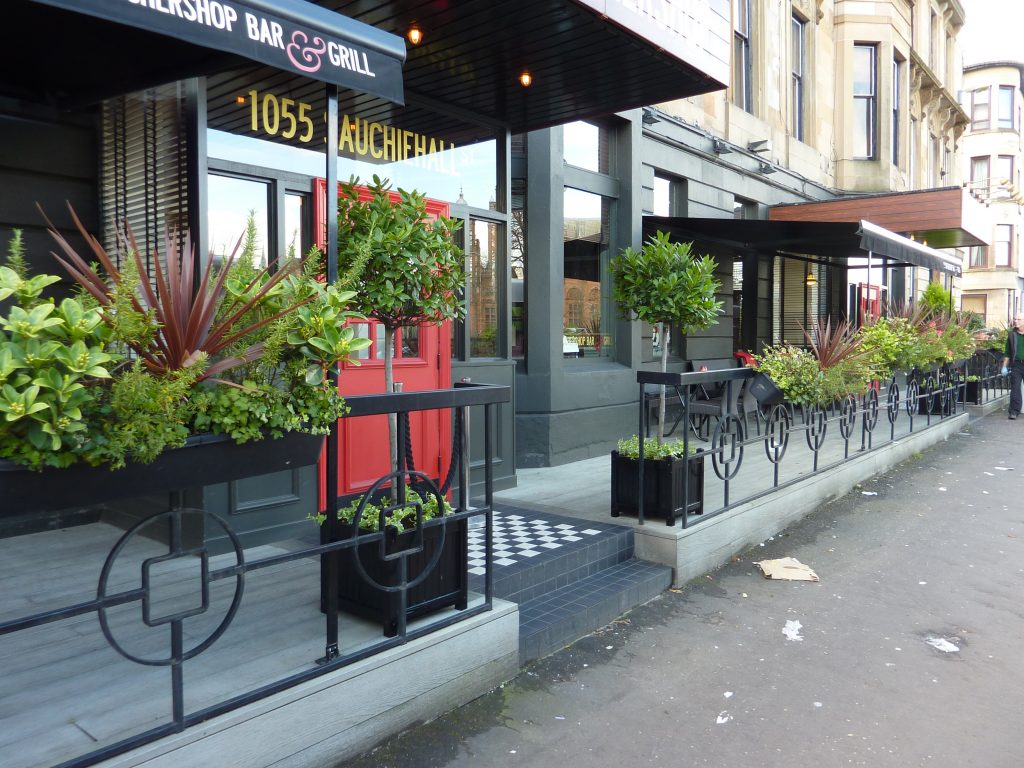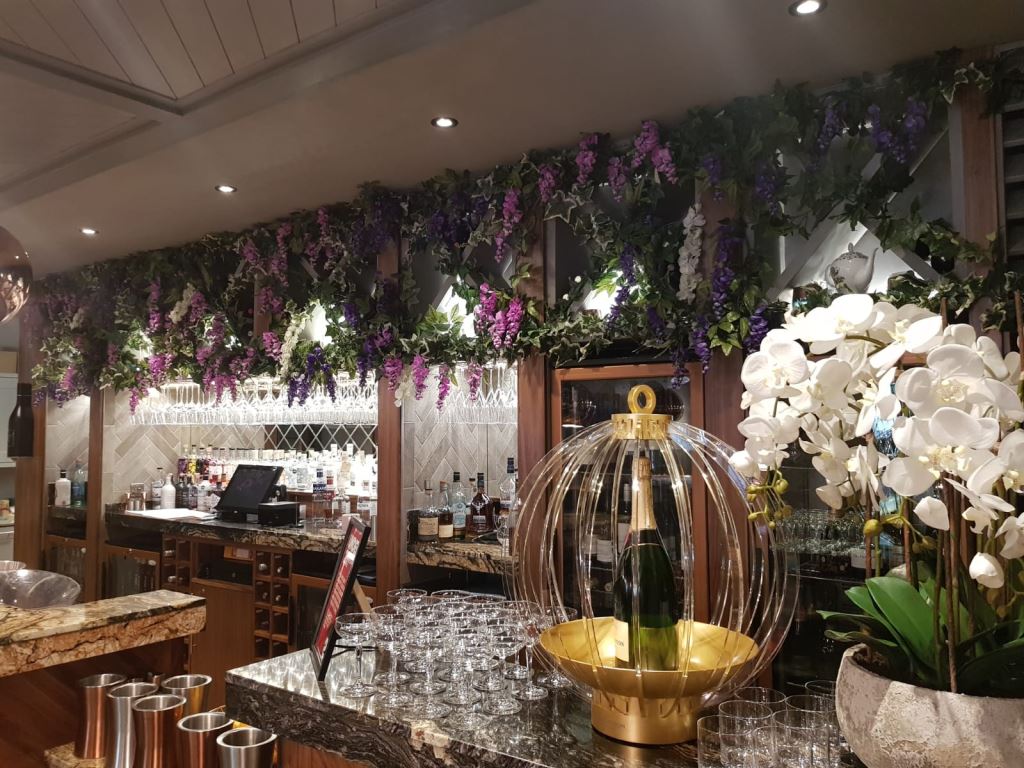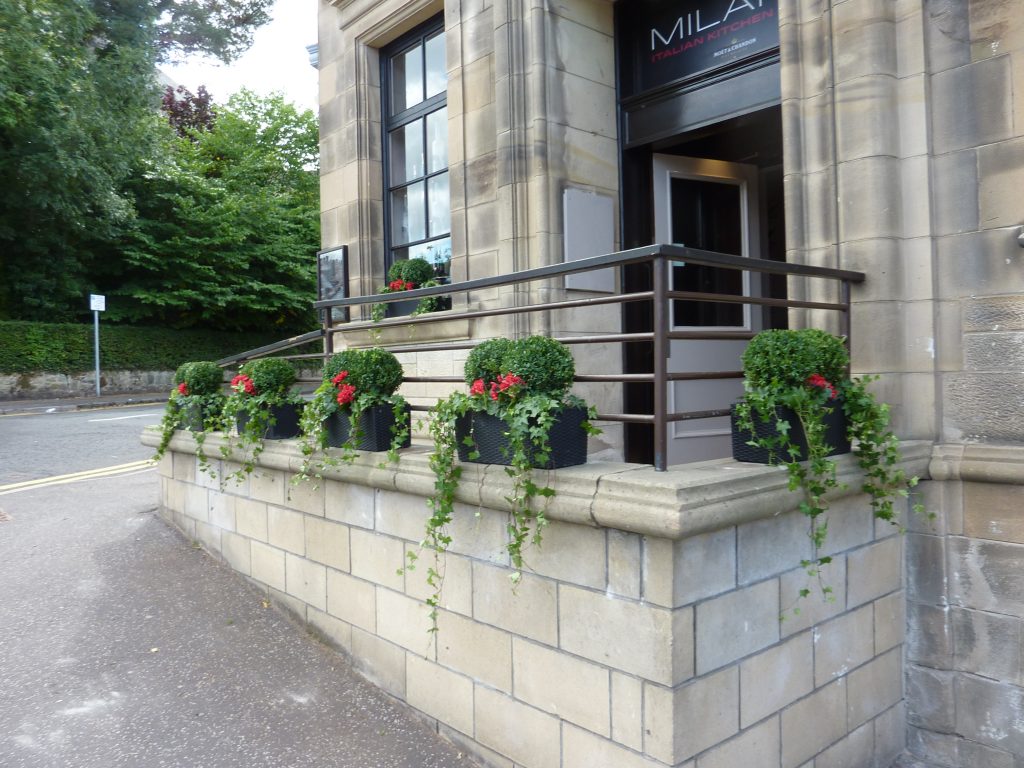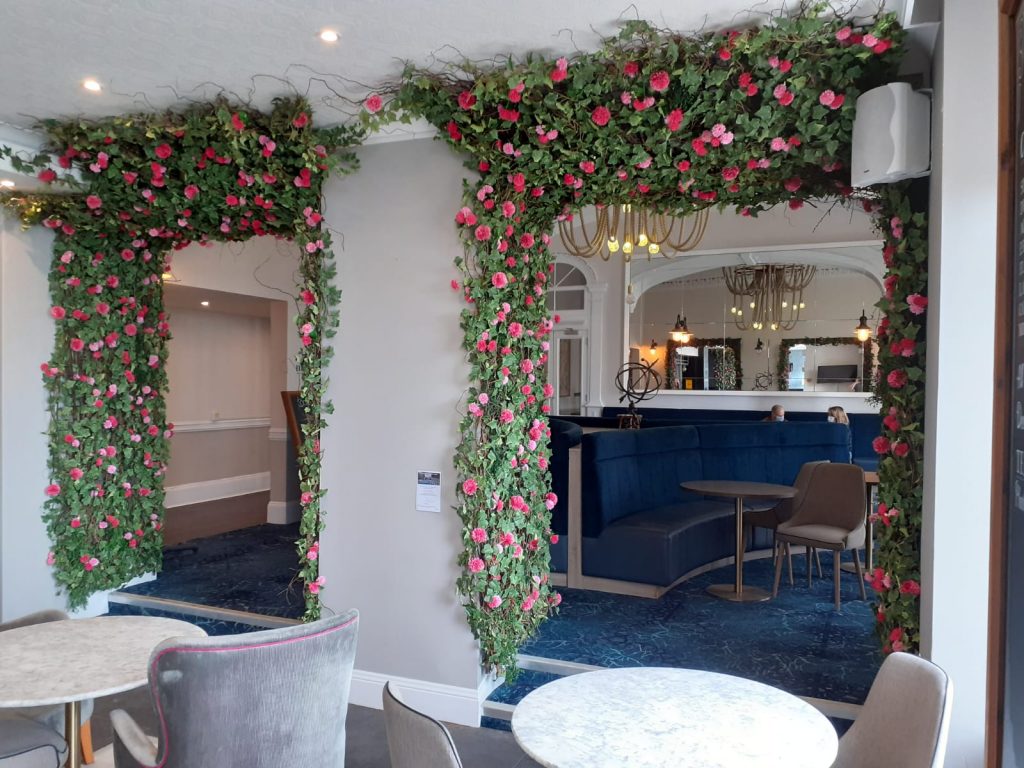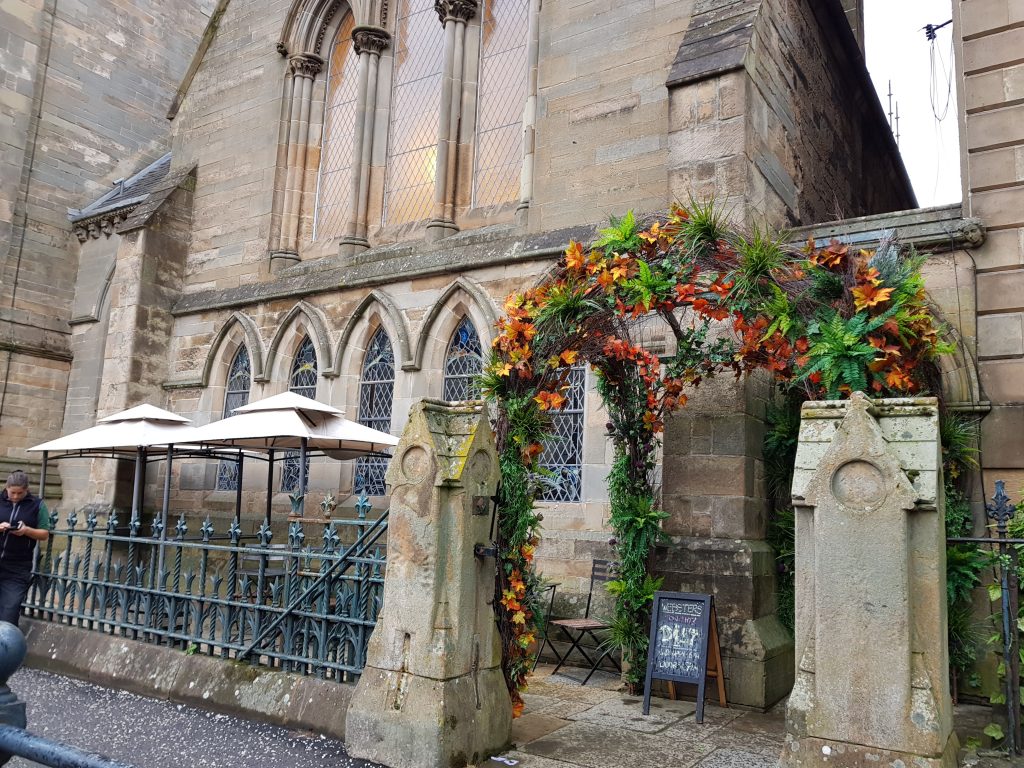 Air quality
The Office for National Statistics reported that minor illnesses, which excludes Coronavirus, accounted for over a quarter of all employee absences in 2020. These minor illnesses include coughs, cold and flu which are often caused by VOCs found in busy indoor spaces, like restaurants, which typically hold a lot of recycled air. 
VOCs (Volatile Organic Compounds) are harmful gasses that are emitted from everyday materials such as paints, cleaning products, building materials and furnishings.  In restaurants, the use of liquefied petroleum gas (LPG), charcoal and wood for grilling and frying products is a significant source of indoor VOCs that can pose serious adverse health effects to staff and visitors alike.  
The use of plants to neutralize these harmful VOCs (Volatile Organic Compounds) was proven to be effective by NASA's Clean Air Study, which concluded that some plants were able to remove up to 90% of the harmful chemicals tested.  
Acoustics
In 2016, Consumer Reports surveyed complaint types across several restaurant chains and found excessive noise levels to be the most commonly occurring complaint, above poor service, problematic food prep, and even cleanliness. 
Through deflection, absorption and refraction, plants can help to improve restaurant acoustics. Sound bounces from impermeable surfaces such as walls and hard storage units, whereas plants are porous to support photosynthesis which also gives them the ability to absorb sound waves from the air. 
Being able to regulate noise is especially important in a restaurant where guests expect a certain level of ambience that allows for conversation and a sense of intimacy.  
Flexible layout
Plants can provide a natural method of screening to guide visitors, prevent queuing and attractively divide spaces for different functions.  
Our barrier planters can be supplied with robust castors to allow them to be moved easily or they can be secured in position to prevent them moving. They can be designed to suit any location and manufactured in any colour to match your branding, and there are many options for displaying your logo and other marketing messages. Every location is unique, and our creative design team will work with you to provide an ideal solution.  
Outdoor areas
Outdoor spaces are a golden opportunity to increase the capacity of your venue and provide an additional source of income all year round. From the perfect furniture to that finishing flourish of greenery, our team are here to help you design the ultimate outdoor dining experience for your hospitality customers. Click here to read our guide on how to untap the potential of your outdoor area.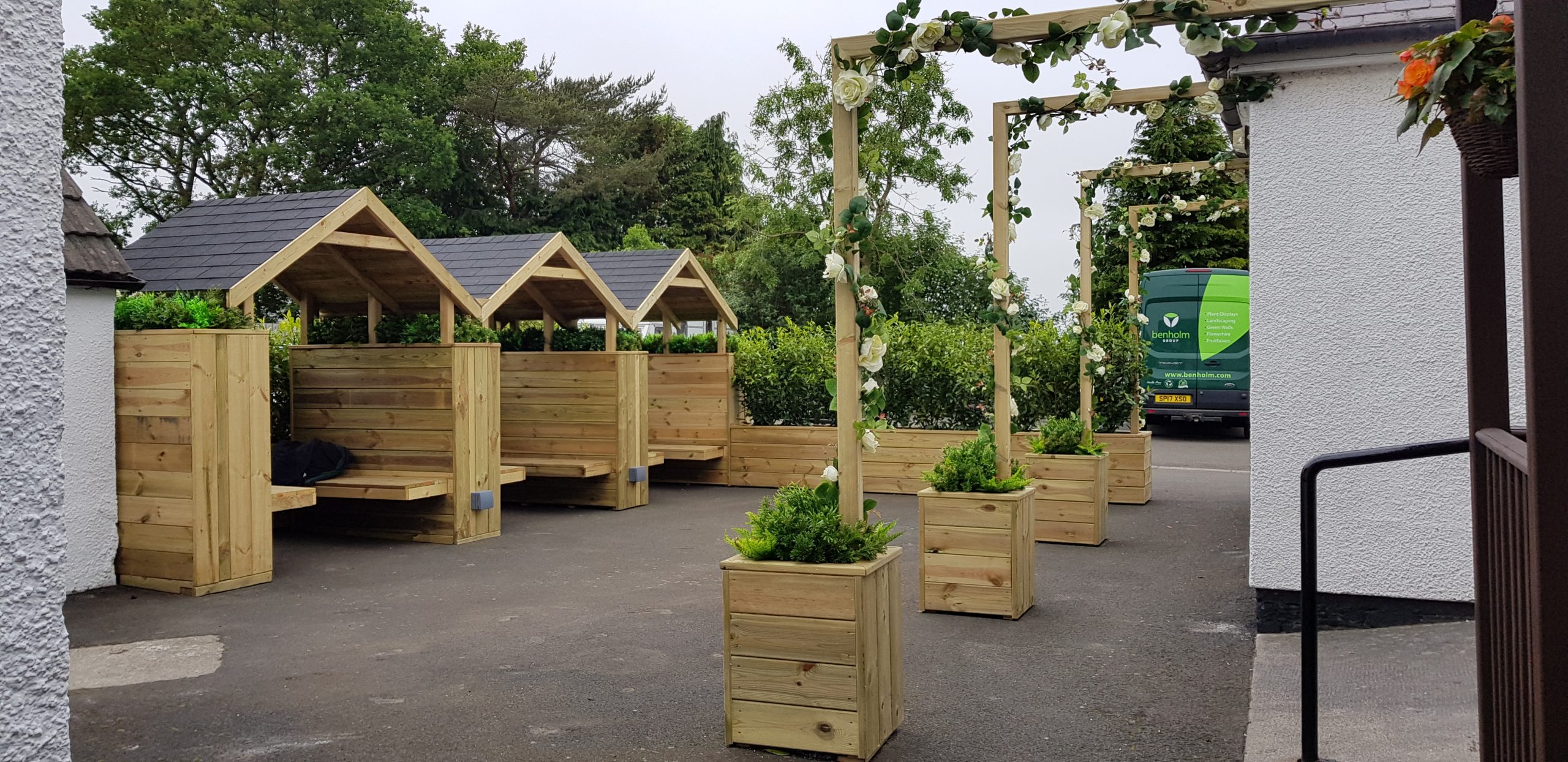 Green certifications
Biophilic design can help to achieve coveted green credentials which now play an increasingly important role in a customer's perception of an organization. 
Our Enviroculture planting system is clean, pure, and free from all soil-borne pests and diseases making it ideal for eating areas and restaurants. Every Enviroculture planting installation is rewarded with a Certificate of Environmental Excellence to display to your guests and contributes towards your ISO 14001 accreditation and schemes likes BREEAM. We also offer sustainable container options which are responsibly sourced and manufactured from 100% ecological materials. 
Conclusion
When executed effectively, the benefits of biophilic design can permeate every aspect how your restaurant operates and have a measurable effect on your bottom line.  
We have almost thirty years of experience working with restaurant owners, architects, and interior designers to bring biophilic benefits to restaurant staff and visitors across the UK. From concept to installation and ongoing maintenance, we enhance your venue with minimal disruption to you.  
Click here to download our Hospitality plant displays brochure.
To speak with a member of our team or obtain a free quotation, give us a call today on 01324 861300 or email mail@185.216.77.122