As an office manager, you'll juggle various responsibilities to ensure your workspace runs smoothly. Biophilic design can provide natural solutions to optimize working practises in ways many have not imagined. 
Supported by research from a range from reputable sources, we have shown below how biophilic design can help you to address several workplace issues including productivity, absenteeism, and even recruitment. 
What is biophilic design?

 
Biophilic design is the incorporation of nature and natural elements into the 'built' environment. The purpose of such a design is create aesthetically pleasing environments that simultaneously enhance the physical and psychological wellbeing of those who occupy these spaces. Through appreciation of biophilic design principles, we can create working spaces that are more productive, more creative, that are calmer, less stressful, and more restorative. 
Wellbeing

 
From Monday to Friday, a full-time employee will typically spend half of their waking hours in an office environment (based on a 40-hour working week and assuming 8 hours of sleep a night). Unfortunately, workplaces often tend to be stripped of much of their connection to the natural environment. Having employees work in a bare, clinical space can decrease morale and doesn't provide a creative workspace to inspire and boost the mood of employees. 
Increased time spent indoors during the pandemic gave us a greater appreciation for nature and this was reflected in the offices that were created for employees forced to work from home. Many employees who were working from home used plants as a way to create a working space that is comfortable for them.  
According to The Garden Centre Association houseplant sales in 2021 were up 29.40% in comparison to 2020 figures, and up 50.19% on 2019.  
As the nature of work evolves, many employers are considering creating spaces which are less clinical and feel more compelling and inspiring to create a more productive and happier workforce. In the first field study of its kind, researchers found enriching a 'lean' office with plants could increase productivity by 15%. Lead researcher Marlon Nieuwenhuis, from Cardiff University's School of Psychology, added: "This conclusion is at odds with the present economic and political zeitgeist as well as with modern 'lean' management techniques, yet it nevertheless identifies a pathway to a more enjoyable, more comfortable and a more profitable form of office-based working." 
Air quality

 

 
Having a healthy pool of employees is critical to any well-run business and absence through illness can be costly.   
The Office for National Statistics reported that minor illnesses, which excludes Coronavirus, accounted for over a quarter of all employee absences in 2020. These minor illnesses include coughs, cold and flu which are often caused by VOCs found in busy indoor spaces, like offices, which typically hold a lot of recycled air. 
VOCs (Volatile Organic Compounds) are harmful gasses that are emitted from everyday materials such as paints, cleaning products, building materials and furnishings.  
The use of plants to neutralize these harmful VOCs (Volatile Organic Compounds) was proven to be effective by NASA's Clean Air Study, which concluded that some plants were able to remove up to 90% of the harmful chemicals tested.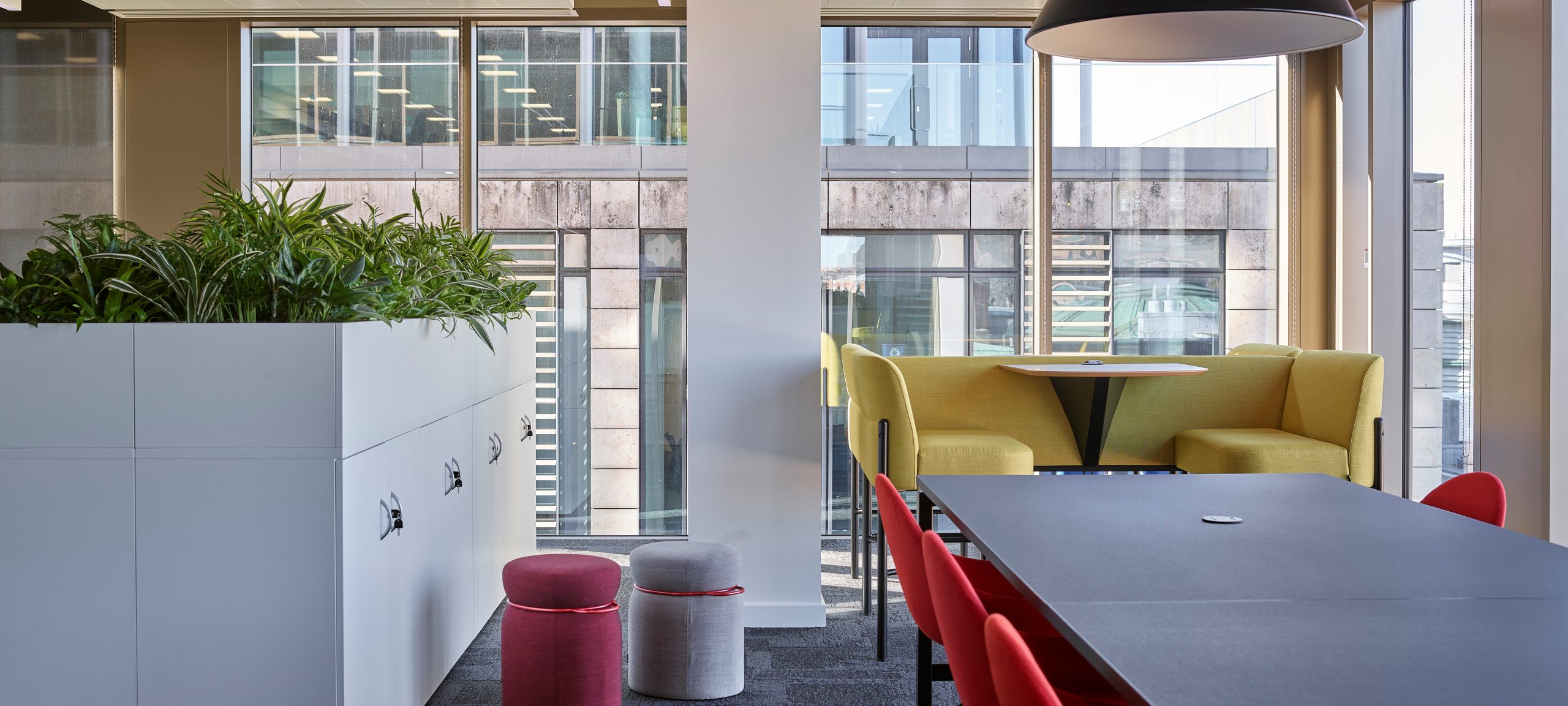 Acoustics

 
Busy offices are filled with distracting and interruptive noise that can reduce the productivity of employees. A sharp increase in virtual meetings taking place in offices has also made acoustics a more important consideration than ever before. Time lost through being unable to communicate clearly due to excessive noise can be costly and may frustrate customers and clients. 
Through deflection, absorption and refraction, plants can help to improve the acoustics in your office. Sound bounces from impermeable surfaces such as walls and hard storage units, whereas plants are porous to support photosynthesis which also gives them the ability to absorb sound waves from the air. 
A 2021 study conducted by Cambridge University established a link between open-plan office noise and both stress and negative mood. They found that negative mood increased by 25% and sweat response by 34% in participants. 
Recruitment

 
Biophilic design will not only benefit the wellbeing and retention of current employees and can also help to attract new talent to businesses. Biophilic design sends visual cues about a company's values and green spaces communicate to workers that their employers care about them and their welfare. 
The Human Spaces report: The Global Impact of Biophilic Design in the Workplace found that a third of office workers say that the design of an office would affect their decision to work for a company.  
Flexible layout

 
Plants are useful in creating agile offices which can be adapted to accommodate social distancing, new equipment and furniture, or an increase in capacity. They can also be used to guide employees, attractively divide spaces for different functions, and give areas a sense of privacy.  
Our barrier planters can be supplied with robust castors to allow them to be moved easily or they can be secured in position to prevent them moving. They can be designed to suit any location can be manufactured in any colour to match your branding and there are many options for displaying your logo and other marketing messages. Every location is unique, and our creative design team will work with you to provide an ideal solution.  
Green Certifications

 
Biophilic design can help to achieve coveted green credentials which now play an increasingly important role in the perceptions of an organization. 
The Enviroculture  planting system is clean, pure, and free from all soil-borne pests and diseases making it ideal for eating areas and restaurants. Every Enviroculture planting installation is rewarded with a Certificate of Environmental Excellence to display to your guests and contributes towards your ISO 14001 accreditation and schemes likes BREEAM. We also offer sustainable container options which are responsibly sourced and manufactured from 100% ecological materials. 
Stress-free

 
Bringing the benefits of biophilic design to your business doesn't have to be time consuming, and you can rely on our expertise to help bring your vision to life. We are bursting with creative ideas on how to transform your space, regardless of the setting. Whether you choose to buy or rent from us, our friendly team will take care of the installation and maintenance of your plants minimising any disruption to your business. Use our expertise, so you can focus on yours. 
Conclusion
We now understand biophilic design is more than just visually appealing and having nature in a workplace is significant to influence positive behaviour, promote wellbeing and organizational objectives.  
We have almost thirty years of experience working with office managers, architects, and interior designers to bring biophilic benefits to offices across the UK.  
Blur the lines between the outdoors and indoors. To chat with a member of our team or obtain a free quotation, call us today on 01324 861300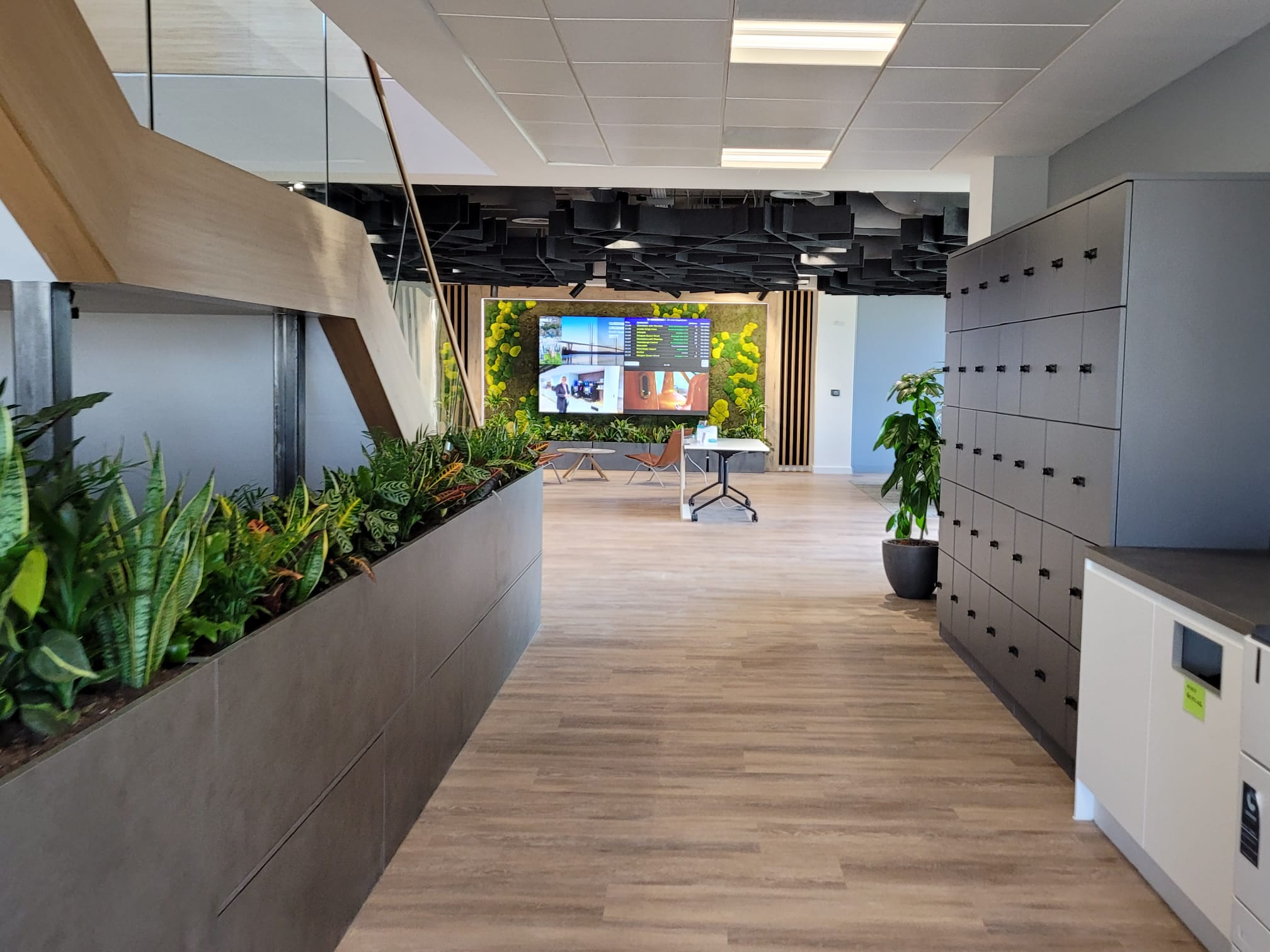 Resources
If you found this blog interesting you can share it with your network: