At Benholm we always say "Use real plants wherever possible but where it is not practical make sure the artificial ones are as real as possible"   
Visually, due to advanced manufacturing techniques, it can often be difficult to tell the difference between a live or artificial plant. Plants offer much more than just visual appeal, however, meaning there will be more to consider than just aesthetics when choosing plants for a commercial space.    
In this article, we will take a closer look at their key differences to help you make your own decisions on what type is most appropriate for your project by considering:   
The senses
Artificial plants are less impossibly perfect than they once were and are now created with deliberate imperfections to give a more natural appearance and texture. With almost thirty years of industry experience, we understand the intricate differences between real and artificial plants and take care when dressing out the foliage to give a more realistic finish. Despite this, real and live plants are still largely distinguishable when viewed from a close distance.  
Although visually similar, other sensory experiences that real plants can provide are more difficult to replicate with artificial plants.  
Real plants have an authentically earthy scent. There are scenting possibilities with artificial plants, however, some do still smell of materials used in the manufacturing process.   
Real plants can be satisfying to touch, and they have a much wider variety of textures than artificial plants. The leaves of artificial plants tend to have a more plastic and synthetic feel which is uniform across most artificial plant types.   
There is no real sound from real plants, whereas artificial plants will often rustle in breezy conditions.  
Maintenance
Real plants require regular maintenance which may make artificial plants a more tempting prospect, however, with our maintenance service you can enjoy the benefits of real plants without any hassle or disruption to business.   
Artificial plants have no major maintenance needs other than occasional dusting and rearranging as required.   
Versatility
Artificial plants can be used almost anywhere as they do not require natural light as real plants do and are suitable for use in most climates. They are also particularly useful in areas that are difficult to reach or will be viewed from a distance.  
With both plant types, we will offer our expertise on the best setting to use to keep them looking as vibrant and healthy as the day they were installed.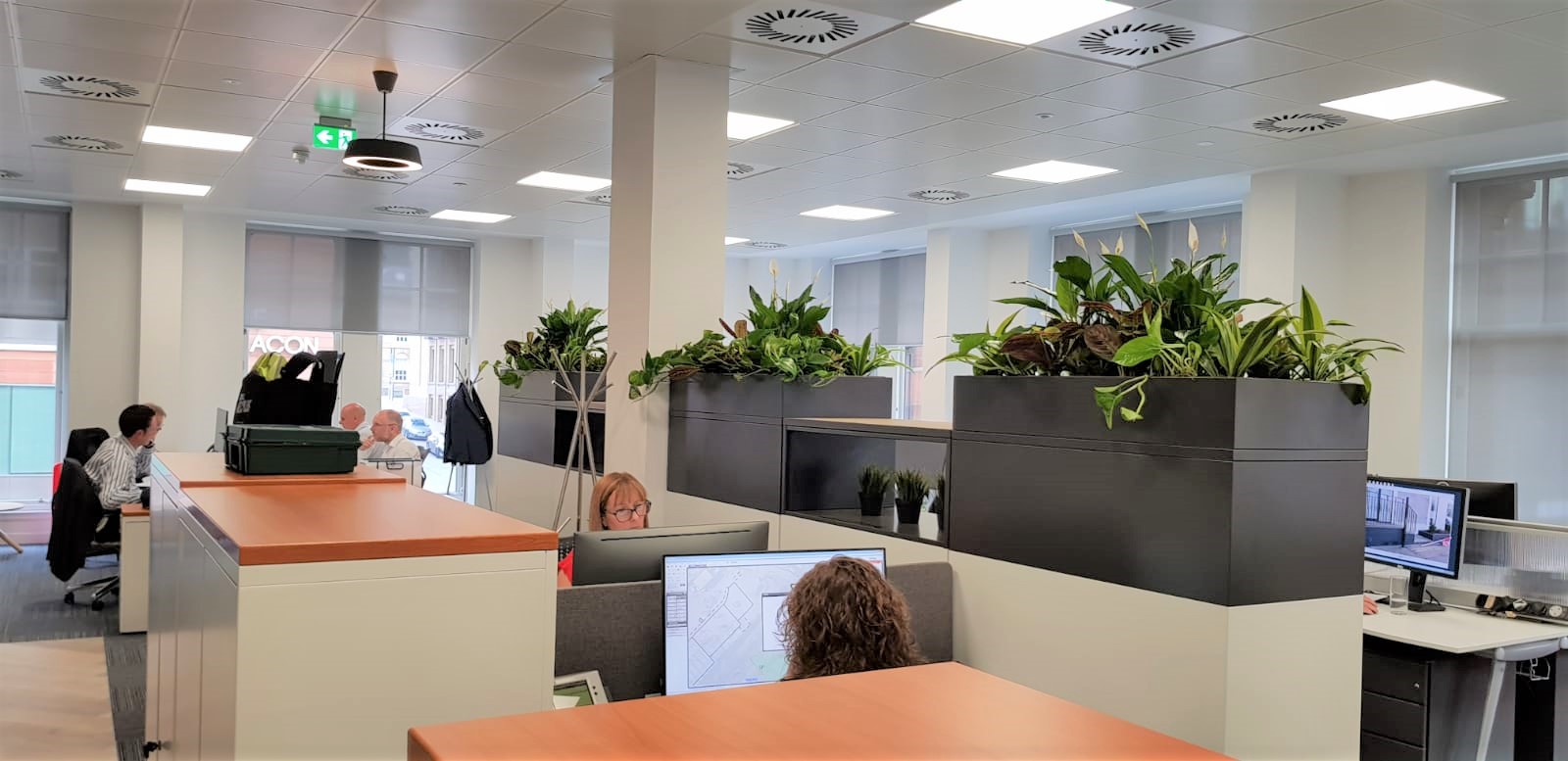 Robustness/Durability
Artificial plants are very durable and less susceptible to damage through physical contact or temperature fluctuations. They can usually be easily rearranged and dressed out if in need of repair.  
Artificial plants can become discoloured if they are not coated with UV protection and are subjected to direct sunlight.  
At Benholm, our artificial plants and floral displays use the most natural looking and durable products to ensure a truly special look that requires no special care or attention.    
Sustainability
Sustainability has become a key consideration for businesses around the world.  
Live plants are good for the environment as they absorb CO2 through stomata in their leaves, helping to regulate excessive CO2 which is harmful to the Earth's climate and weather patterns. 
We use a peat-free Enviroculture planting system that does not require soil or compost for live plants to grow, helping to reduce the impact on natural peatlands.  
Real plants require regular maintenance visits which involves emissions associated with travel, however, our watering reservoir technique helps to minimise the frequency of these visits.  
More sustainable products are being introduced to create artificial plants; however, many continue to be made using plastics and other synthetic materials, often sourced from Asia, which are non-recyclable.   
Perceptions
Real plants have universal appeal. The distasteful appearance and texture of older style artificial plants from decades gone by gave artificial plants a bad reputation which continues to linger – regardless of the significant advances in how they are created today.   
Biophilia 
Live plants provide a direct link to nature which has been proven to engage the senses and stimulate the mind. This is also true of artificial plants, as even a perceived sense of nature can provide psychological benefits. The Human Spaces report: The Global Impact of Biophilic Design (BD) in the Workplace found that those who work in environments with natural elements report a 15% higher level of well-being, a 6% higher level of productivity and a 15% higher level of creativity than those who work in environments devoid of nature.     
Health & wellbeing
Real plants play a part in purifying the air of harmful pollutants which can potentially reduce absence through sickness. The Office for National Statistics found that minor illnesses, which excludes Coronavirus, accounted for over a quarter of all employee absences in 2020. These minor illnesses include coughs, cold and flu which are often caused by VOCs (Volatile Organic Compounds) found in busy indoor spaces which hold a lot of recycled air.  
In addition to absorbing CO2, live plants also produce oxygen as a by-product of photosynthesis, essential to everyday functions of the human body. 
Acoustics
The multangular nature of leaves on a plant, both artificial and real, can help to dampen noise through deflection and absorption. 
Real plants will normally dampen noise to a greater degree as their leaves tend to be softer making them potentially more absorbent than artificial plants.  
Conclusion
Whilst live plants would always be the preferred option to artificial plants, there are often several compelling reasons that might mean artificial plants make more sense for your project. We provide high quality real and artificial plants with a range of creative options and can offer our expertise on the most appropriate option for your next project.      
To chat with a member of our team or obtain a free quotation, call us today on 01324 861300