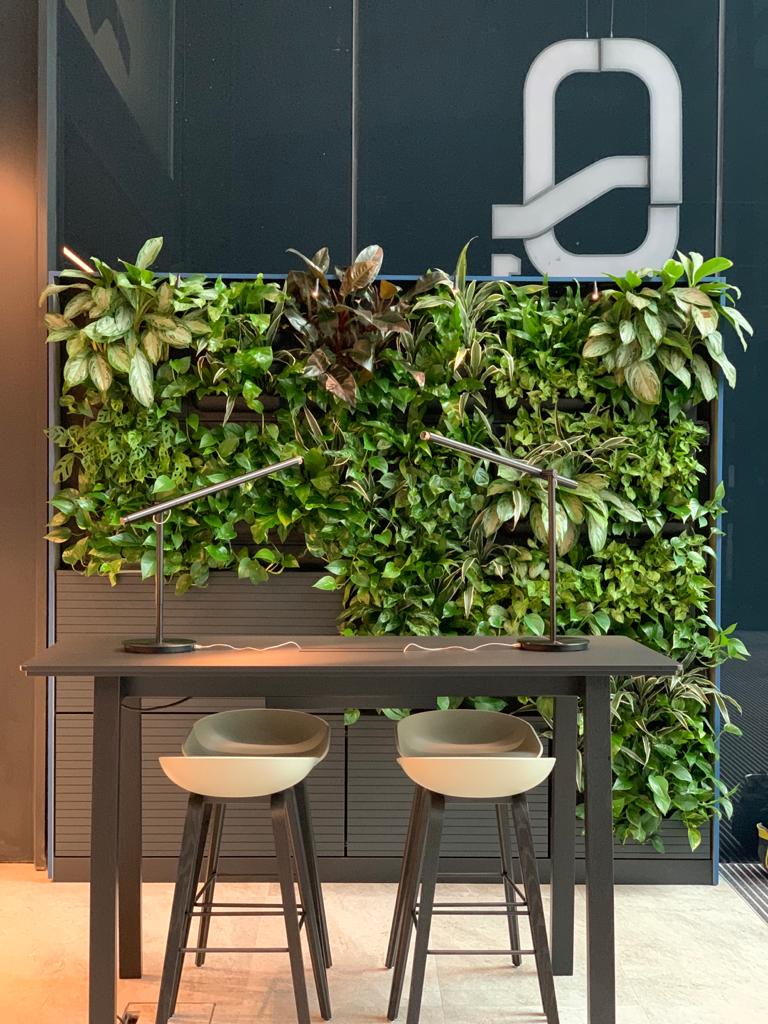 Living walls can truly revitalise any interior space. These 'vertical gardens' brings a fresh look to the interior of any property and creates a lush focal point. They also provide health and well-being benefits, providing cleaner air and boosting mood and productivity.
What is a living wall?
A living wall, or vertical garden, is normally installed in front of an existing, solid wall, however raff-standing options are also available. The structure is attached to the existing wall at various points, without causing any damage. The living wall can then be used as a garden which creates a fresh, natural feel to the space. They don't just look amazing; they also provide several benefits for the surrounding environment. Our expert team can work with you to design, install and maintain a living wall that is suitable to your space.
What are the benefits of a living wall?
Living walls purify the air
There is no doubt that air quality is important in any internal space. Poor air quality can have several adverse effects on people living or working indoors. These effects include:
Eye irritation
Sore throat
Dizziness
Fatigue
Poor air quality can also aggravate medical conditions like asthma. Living walls improve air quality by converting CO2 into oxygen and by converting volatile organic compounds (VOCs) into compounds which the plants then feed on.
Living walls gives city dwellers and workers the opportunity to experience some greenery amongst the concrete and metal. Another benefit of a living wall is the limited amount of floor space required. It's the perfect solution for spaces where floor space is highly valuable.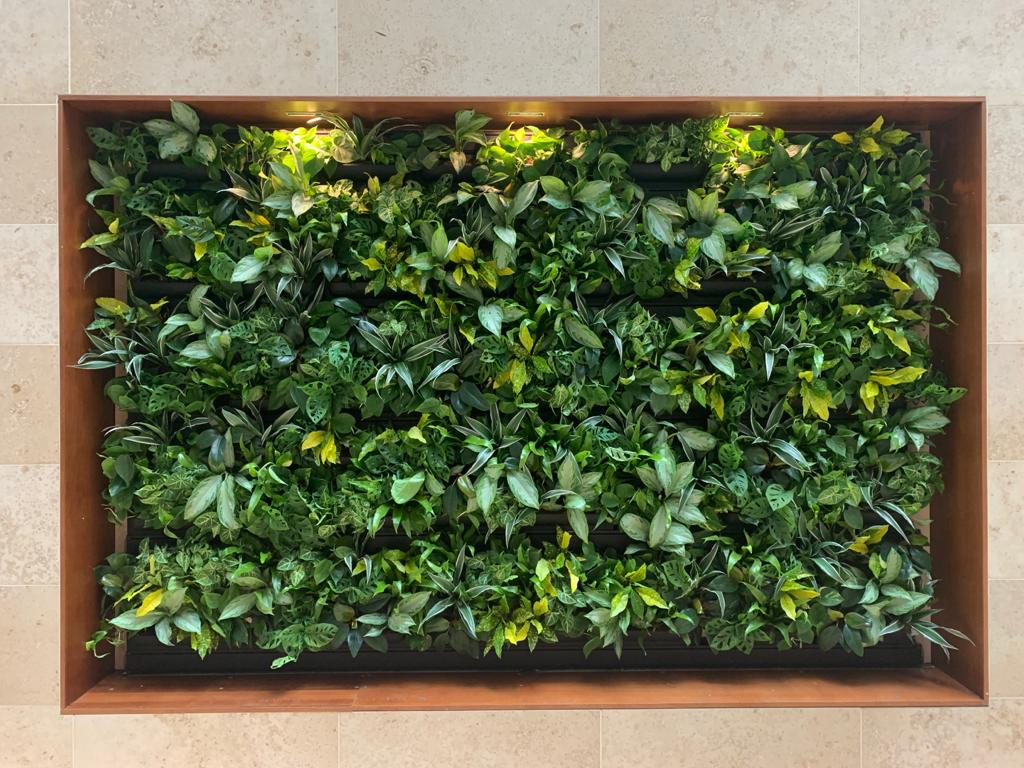 Living walls make you feel better
Research shows that plants have a positive effect on the way people feel, they help to create a feeling of vitality, lifting spirits and creating happiness. As living walls are full of lush healthy plants, they have the same effect and can make people feel better.
This is important in a commercial setting. In an office, when people feel good, they are less likely to be absent and take time off sick. They are also likely to be more productive.
Plants are also seen to have a positive effect in the hospitality and spa industry. For instance, those who go to a spa want to leave feeling relaxed, plants can enhance their experience resulting in them leaving calm. Our collaboration with Emma O'Neil – Founder of La Rue Verte, also exemplifies how this can be achieved in the hospitality sector. More information about La Chambre Verte can be found here.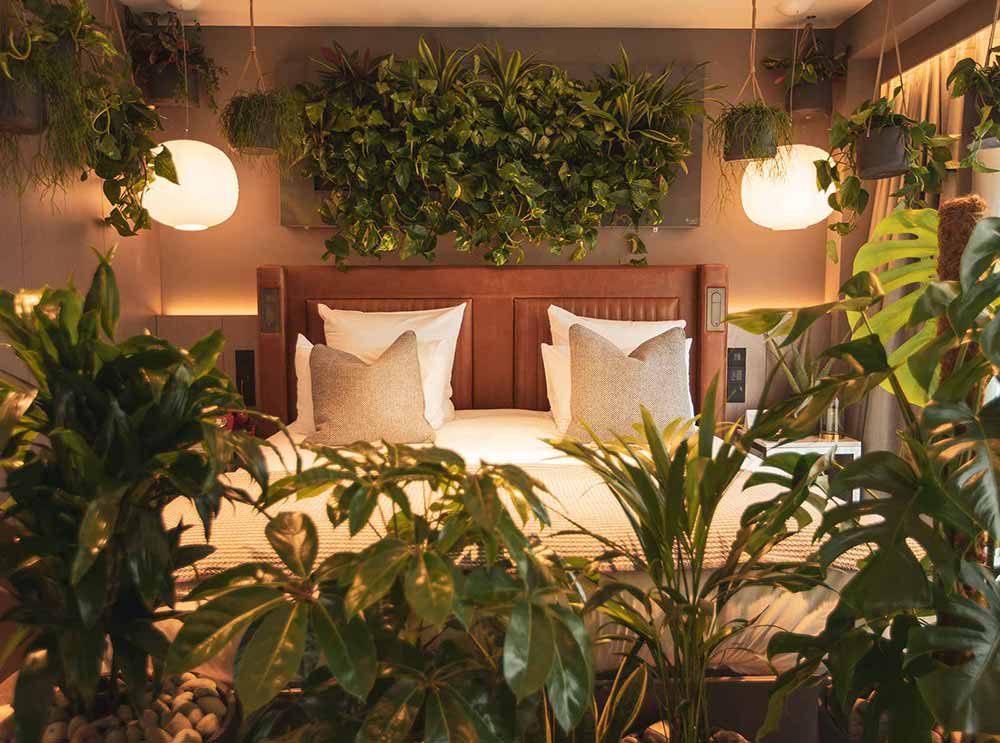 Living walls improve productivity
A good level of productivity is essential to the survival and growth of any business. A great way to improve productivity is to create green spaces, research shows that you can yield the following benefits:
Enhanced employee mood.
Improved learning.
Higher levels of innovation.
More efficient decision making.
Improved problem-solving.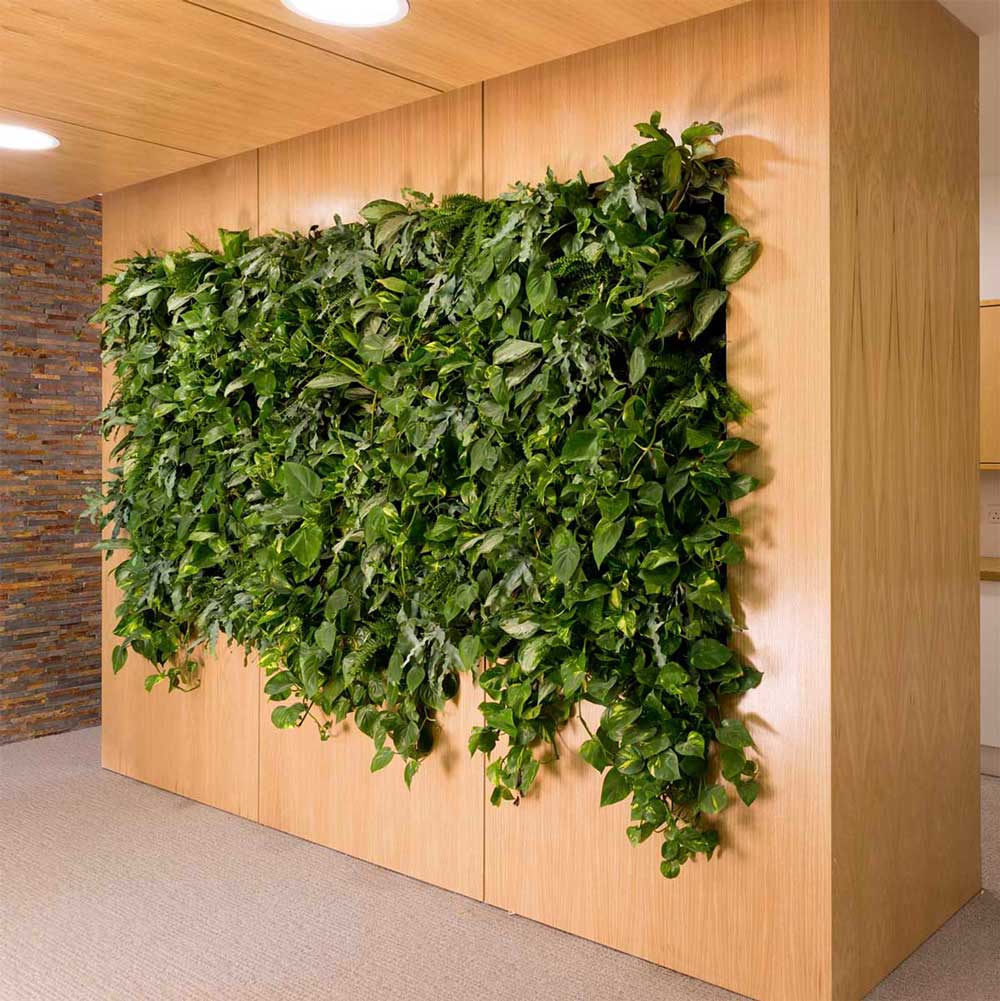 Living walls create positive brand associations.
All businesses want customers to hold a good impression of its brand. An important factor that can help with this is impressive and welcoming office spaces. Living walls can create great first impressions:
The creation of an eye-catching environment.
Freshening the environment and making it a healthier place to visit and work in.
Portraying the brand as environmentally conscious.
These factors are all important in impressing potential clients. They can also help attract professionals who want to work for a forward-thinking business.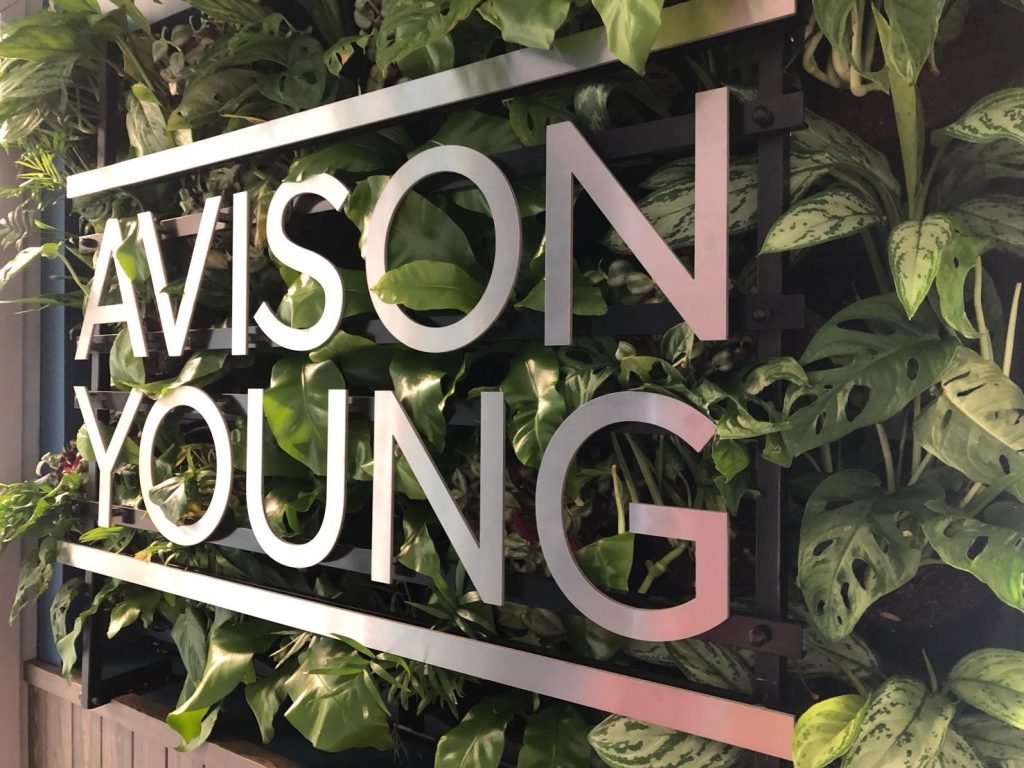 Living walls improve Acoustics
Noise is a constant feature in most buildings usually generated by phone chatter, footsteps on hard floors, conversations and IT essentials like printers. Plants bring so many benefits to their environments and the people in them, but noise reduction is one of the less-known advantages.
Plants absorb, diffract and reflect sound. Plants bring so many benefits to their environments and the people in them, but noise reduction properties are less widely known. As plants are multi-layered they help deflect and absorb sound from the room.
Adding a living wall in your office space or premises is an easy way of creating a focal point that also helps to improve the health and well-being of everyone inside. From a commercial perspective, living walls can help to attract clients and potential employees, by creating a good impression of a brand, they also boost creativity and productivity.
Benholm Group are proud to design, create and install living walls across Scotland and the UK. To give you an added peace of mind, we also provide maintenance services and surrounding lighting if needed.
Some of our recent projects include Quartermile One, Artia One and Social Security Scotland – keep an eye on our socials to get a snapshot of our completed projects.
For more information on living walls or any other products or services we offer, call us on 01324 861 300 or email mail@185.216.77.122.