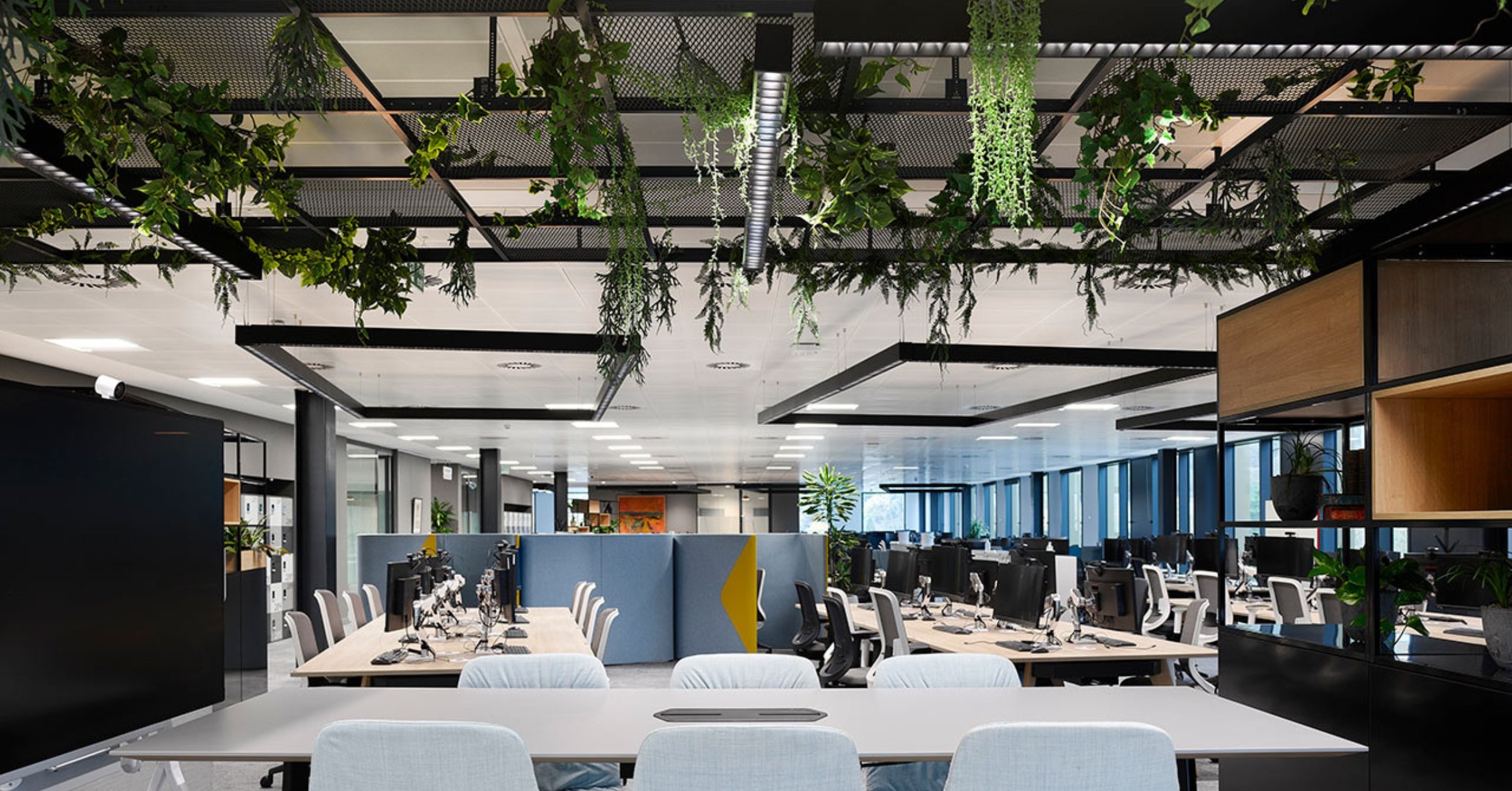 We were delighted to learn that Michael Laird Architects have been shortlisted for the 2023 Scottish Property Awards in the Commercial Development of the Year category for their work on one of our recent Corporate projects at Kildean Business Park.
The £22.4 million bespoke office building was developed for M&G in Stirling. Providing 77,380 sq ft of office space across three floors, the building has been described as setting the standard for sustainable office development in Stirling and Scotland's central belt.
Working alongside MLA, we added refreshing touches of greenery throughout the office ahead of its opening last year.
In recent years there has been a growing body of evidence that suggests that office plants can have a number of benefits for workers. These benefits include improved air quality, increased productivity, and reductions in stress levels. However, despite the clear evidence of the benefits of office plants, many workplaces still do not have them. This is often due to a lack of understanding of the benefits of plants or a belief that plants are a 'luxury' item.
Reflecting on the project, Stephen Brewer, project director of Michael Laird Architects, said, "This development has created a new landmark for Stirling. Sustainability has been a core focus during the design and development of this project, to meet occupier requirements for low emissions and a reduction in environmental footprint through careful material specification and high-quality construction of the external envelope to meet and exceed minimum standards for insulation and airtightness.
"Strong rustic brick and metallic bronze-coloured windows combine to create a contemporary Scottish aesthetic in this magnificent setting. Completing this project is a significant milestone and we are very proud of the sustainability credentials it has achieved."
Also attending the ceremony will be our friends from ICA who have been shortlisted for Architectural Excellence, Regeneration Project of the year and ESG Refurbishment of the Year for their work on the Virgin Hotel in Edinburgh. You can read more about our contribution to this fantastic project here.
It was our pleasure to be involved in these wonderful projects and we will have our fingers crossed for both MLA and ICA in their respective categories on the night.  
We love working with commercial interior designers and architects to help bring their creative vision to life with plants and flowers for any space. We're always up to date with the latest trends in plant and floral designs, and are bursting with ideas to include living and artificial plants in your design schemes that will delight and inspire your clients.

Get in touch to discuss your next project today: https://www.benholm.com/contact-us/