Regular Maintenance is an essential part of any interior plant's wellbeing. As an interior designer, it is likely you will deal with a diverse range of clients who may not always understand or appreciate the importance of a maintenance contract as part of a project involving plants.  
Here we will arm you with the knowledge to be able to underline the importance of a maintenance contract and answer any questions your client may have when discussing your next project.
DIY

vs professional

maintenance
If your client raises the possibility of maintaining their plants themselves, whilst they are free to do this, we strongly recommend against DIY maintenance. Plants maintenance needs to be thought about as an essential item of building maintenance in the same way as HVAC, lifts, cleaning, and landscaping services.  
Plants are a science in their own right and require a certain level of expertise to ensure they continue to look as healthy and vibrant as they were on the day they were installed.  
Plants maintenance done 'in-house' is often overlooked due to prioritization issues caused by a lack of time and personnel, and negligence can lead to significant avoidable costs arising from repairs, replacement, and removal.  
High quality maintenance produces plants which look attractive, vibrant, healthy, and thriving and this has been proven to have a positive effect on staff and visitors. Conversely, poor maintenance will result in unhealthy plants that will provide a negative effect which is damaging to staff morale, motivation, and productivity.  
Simply put, it is better to have no plants, than dead or decaying plants. 
With a maintenance contract we keep your clients' plants looking healthy with minimal disruption to business, and they have peace of mind knowing that plants can be repaired or replaced should they become damaged.  
Any business can save 12-18% by investing in preventive instead of reactive maintenance. Source: https://transcendent.ai/blog/asset-management/42-roi-statistics-that-prove-you-need-a-maintenance-management-system/ 
Payment and contract options
At Benholm, we offer an extensive selection of real and artificial plants which can be either rented or purchased together with a range of care plan options for all your plants on site. So, whether your client likes to buy plants outright or prefers a rental package of plants to avoid a capital outlay, we have the flexibility to meet their needs. 
Renting plants significantly reduces the upfront cost of installing plants in your client's premises and includes a maintenance contact which typically lasts a minimum of three years. Rental is normally invoiced quarterly in advance and the price your client agrees remains fixed throughout the minimum term of the contract making it easier for budget management.  
Purchasing plants outright rather than renting often makes most sense for those working with a 'Capex' budget, and a one-time transaction can be appealing when allocated funds to use for a new or refurbished space. Maintenance contracts are available for purchased plants over a period of 1, 2 or 3 years, and whether your client chooses to rent or purchase plants from us, there is no difference in the maintenance service we provide.  
You can find out more about the key differences between rental, purchase, and maintenance here.
Where do we service?
Our experienced team maintain planting solutions for organisations of all sizes throughout the UK and can work with you no matter your location to design the very best planting. 
What is involved in a maintenance visit?
Our talented team of technicians will visit the premises regularly to carry out a full inspection of the plants. We then clean, feed, prune and water the plants according to their specific requirements and will replace any dead, ailing or even overgrown plants at no extra cost.   
How often are maintenance visits?
A dedicated Benholm technician will typically only need to visit your premises every four weeks, made possible by our watering reservoir technique, but this is not set in stone and the frequency of our visits is also influenced by the needs of your clients plants. Artificial plants have less maintenance requirements than live planting and our visits are less frequently needed – usually on a quarterly, six-monthly or even annual basis.  
Quality of service
Our planting solutions are designed to keep plants healthy, but like all living things they need regular attention to stay as lush and vibrant as the day they were planted – especially in interior environments. Whether indoor or outdoor, real plants can require the right care and attention, delivered at optimal intervals. 
The quality and effectiveness of maintenance will depend on which company you choose, however the difference in the cost per planter of poor-quality maintenance versus good quality maintenance is virtually nothing – it could be only pence. Most companies charge very similarly for the service, but the result (or rather the ongoing result) can often be poles apart. It is often related to how the supplier trains, manages, and motivates their maintenance team. 
Accreditations are key when selecting suppliers, especially for more complex projects such as a living wall.     
The Benholm Group are proud to work to the very highest standards and are delighted to once again be awarded    
– ISO 45001 for Health & Safety    
– ISO 14001 for Environmental Assurance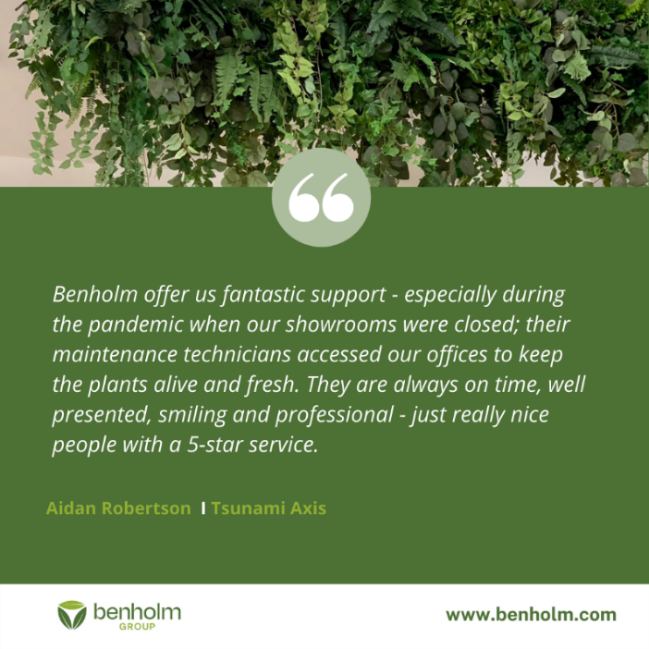 Peace of mind
Here at Benholm we are passionate about the benefits plants can offer businesses, but without investing in regular maintenance these benefits will not last for long.  
We are bursting with creative ideas on how to transform your space, regardless of the setting. Whether your client choose to buy or rent from us, our friendly team will take care of the installation and maintenance of your plants minimising any disruption to their business. We use our expertise, so your clients can focus on theirs. 
We work with companies of all sizes throughout the UK. To talk to our team and find out more information or get a free tailored quote, call us on 01324 861 300.