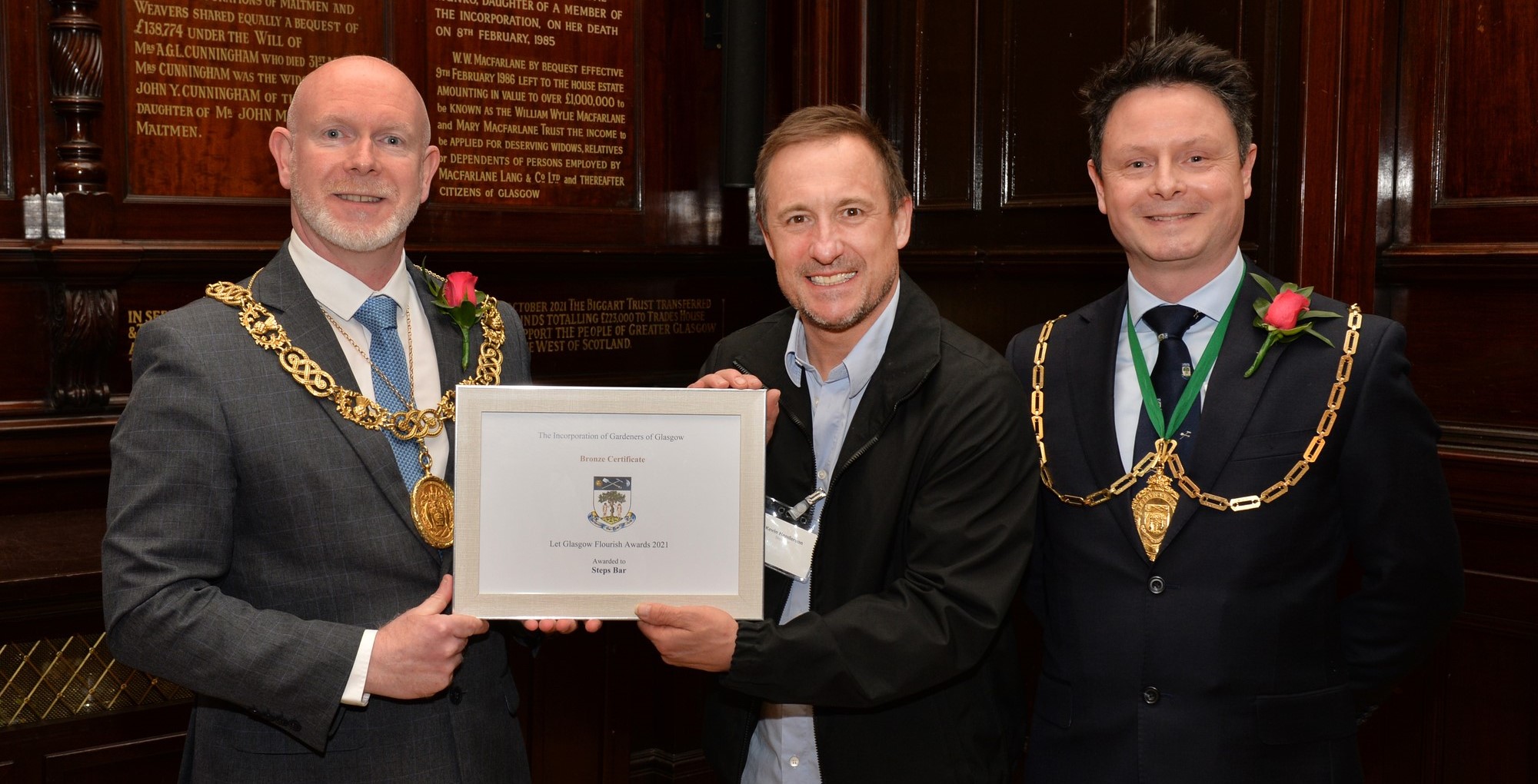 It was lovely to hear from our friends at The Steps Bar this weekend to let us know they had won a prestigious award for their hanging baskets.
The Let Glasgow Flourish Awards was organised and judged by The Incorporation of Gardeners at the Trades House Glasgow and was presented by The Lord Provost of Glasgow, with the Deacon of The Incorporation of Gardeners watching on.
Not only are commercial hanging baskets perfect for decorating and attracting potential customers to businesses such as shops, restaurants, hotels, pubs and bars – they are also ideal too for council departments looking to improve the city's streets.
For your total peace of mind, we offer end-to-end basket supply, bracket installation, and ongoing hanging basket maintenance in Central Scotland to protect your investment. Our teams are equipped with specialist maintenance equipment including bespoke watering vehicles to ensure every display is provided with just the right amount of water. We visit at optimal intervals year-round, with seasonal changes included automatically. So, you don't need to think ahead. And with our deluxe service, further additional changes are possible if required.
We also offer attractive artificial hanging baskets in Central Scotland to reduce the need for maintenance. These are ideal for hard-to-access areas, or as a lower cost option. With high-quality realistic, UV-resistant replica foliage, our artificial hanging baskets are virtually indistinguishable from the real thing. They can also be changed throughout the year on a rental basis to reflect the seasons, with customers none the wiser.
Head to our dedicated hanging baskets page where you can see examples of our previous work, download a free brochure, and fill out an order form.