There are now more possibilities than ever before in how interior designers can use plants to complement their designs. Below are some of the more interesting solutions we have collaborated on which we hope will provide inspiration on new ways plants can be used to elevate any space. 
They contribute to an environment that can help to attract talent, aid retention, and improve productivity, creativity, and overall mental wellbeing.   

 

NASA studies have proven plants can improve air quality by removing CO2 from the atmosphere and enriching the air with oxygen.

 

Plants can also soften the acoustics of a room as they absorb, diffract and reflect sound.

 
1) Green walls
Green Walls have been immensely popular among interior designers and their popularity has shown no sign of slowing down this year.   
Green walls are a conversation starter and provide an intriguing focal point in a variety of settings. They can be used to great effect in office reception areas or meeting rooms, in public space spaces such as waiting areas and hallways, and in commercial buildings including shopping centres, hotels, restaurants and showrooms, as well as in high-end residential projects.     
 36% more guests spend time in biophilic hotel lobbies than in conventional lobbies   
They can be made using live plants (living walls), artificial plants or preserved plants (moss walls) and we can offer our expert advice on what type of green wall is most suitable for your client and where it should be placed.   
Green walls can be used to cover an entire wall, framed like a picture, or even built in with furniture.   
To give our green walls a personal touch we can incorporate patterns, words, or logos, on flat, contoured or 3D surfaces, and you can choose from a beautiful spectrum of colours. These bespoke displays are great way to stand out from competitors and underline green credentials in a visual way.    
We have worked with several brands to create one-of-a-kind displays and we expect this demand to continue in the years ahead. We love creating interesting spaces that people want to be seen at and our bespoke plant & floral features have proven popular on Instagram and helped to bring new customers to businesses.       
Whatever your vision, our team can put it on the wall for all to see. The design possibilities are endless.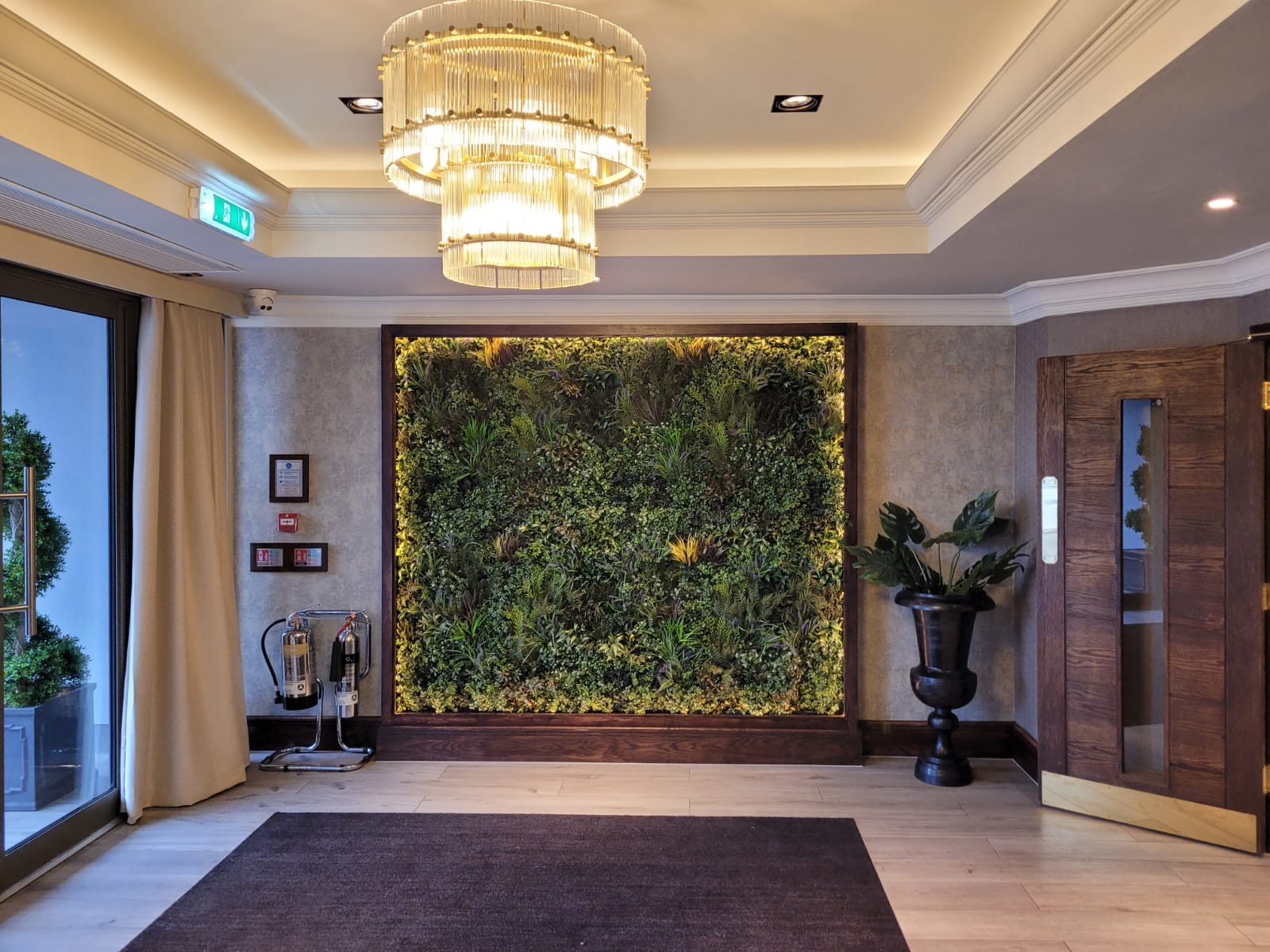 2) Green ceilings
Ceilings represent a huge blank canvas where interior designers can really transform the atmosphere of a room. Green ceilings can give an unexpected splash of nature breaking the monotony of regular plain white ceilings. With the Benholm design and installation team the sky is literally the limit for your green ceiling. 
Suspended raft planting can also breathe life into ceiling spaces. Designed to be suspended from ceilings with foliage hanging down from the raft, this type of planting brings nature closer to the users of the room below for a more immersive experience.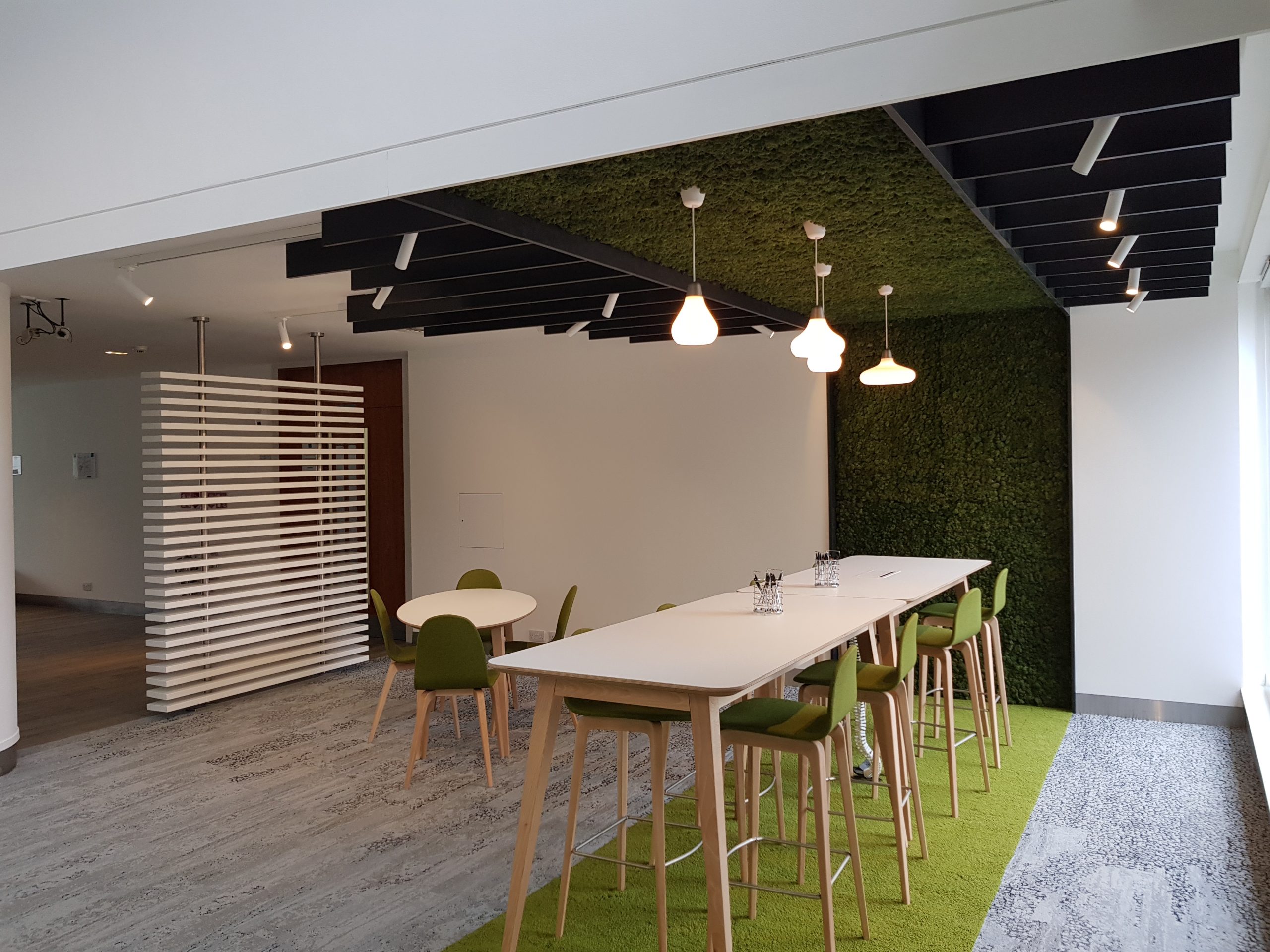 3) Planted meeting spaces
Incorporating plants into meeting spaces may help to make meetings more productive and creative than meetings held in spaces devoid of nature. The Human Spaces report: The Global Impact of Biophilic Design (BD) in the Workplace found that those who work in environments with natural elements report a 6% higher level of productivity and a 15% higher level of creativity. These meeting spaces can come in the form of pods, seating areas surrounded by plants, or by simply using plants as a centrepiece on a conference table. When not being used for meetings, staff could use these spaces for restorative purposes as a sanctuary away from the wider office.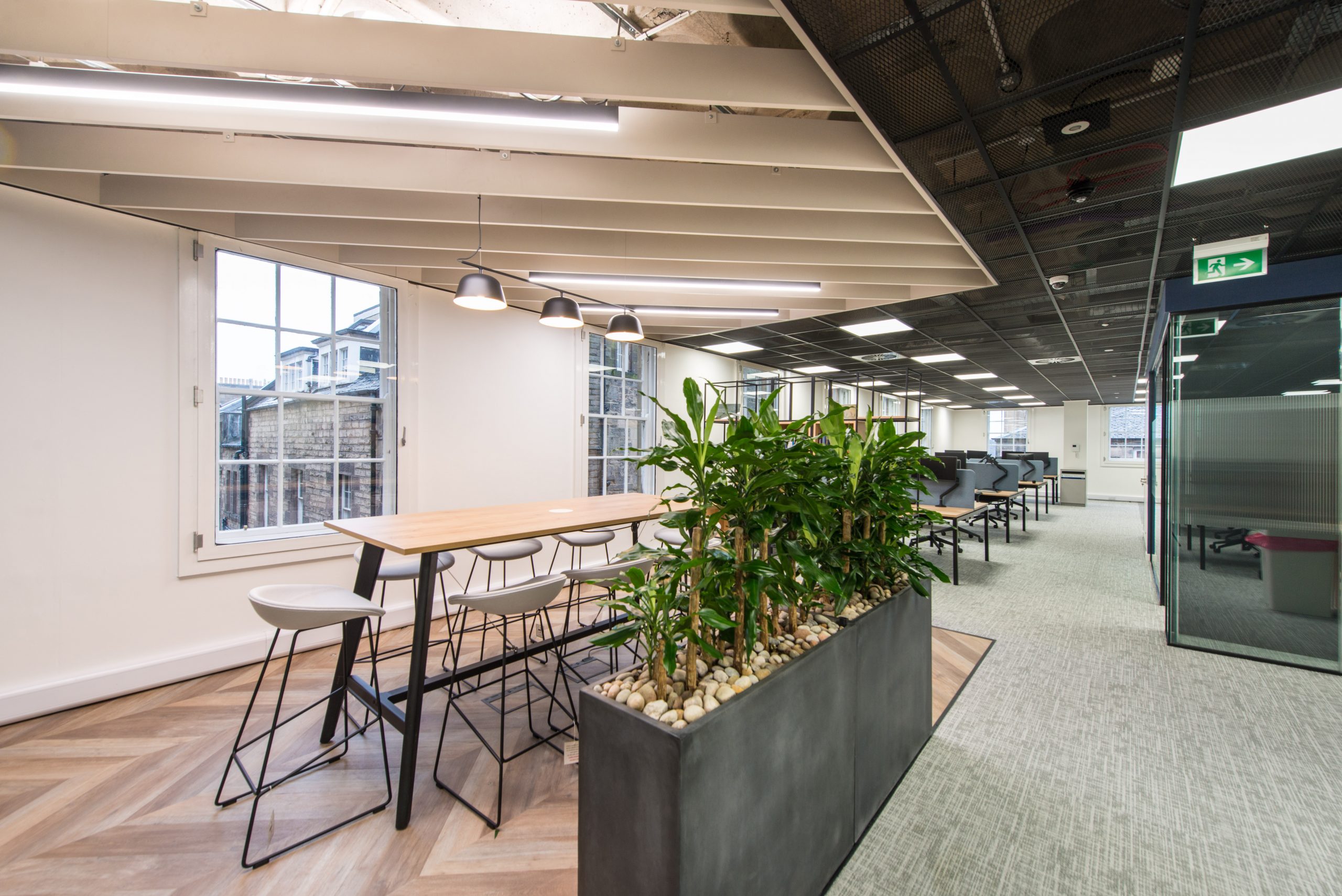 4) Screens and partitions
The pandemic has made us all more cautious about occupying busy public spaces and businesses will be eager to maintain a healthy workforce. Plants offer a stylish opportunity to retain a degree of social distancing in a way that feels less invasive. 
Pandemic aside, plants are a natural solution for segregating areas of an office, restaurant, or retail space, and give a sense of privacy in open plan spaces.
There are many mobile options of planted screens to accommodate layout changes or relocation making them a much more versatile option than permanent structures.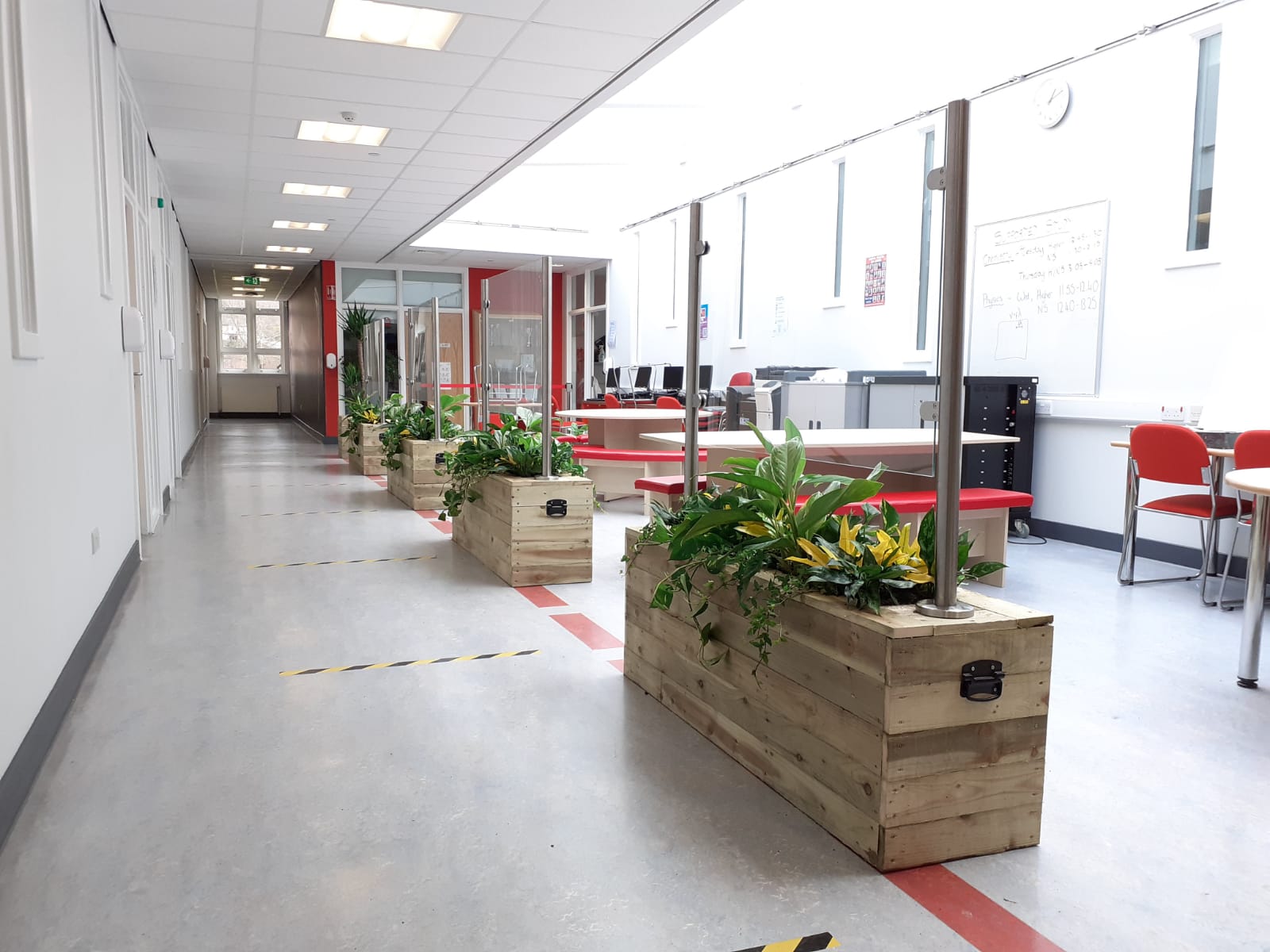 5) Furniture with built in planting
Plants have been used to compliment furniture for decades in interior design, but the blending of the two is a more recent trend. Furniture such as desks, lamps, chairs and even sanitising stations can double as planters combining function with beauty without sacrificing valuable floor space. 
Dressing shelves and tops of cabinets with plants can give corporate spaces a greener and more attractive effect without taking up any floor space. They also discourage clutter and stop documents being left lying around an office. Cabinet top planting is ideal for high traffic areas within an office and the eye-level planting allows everyone to enjoy the benefits of biophilic design.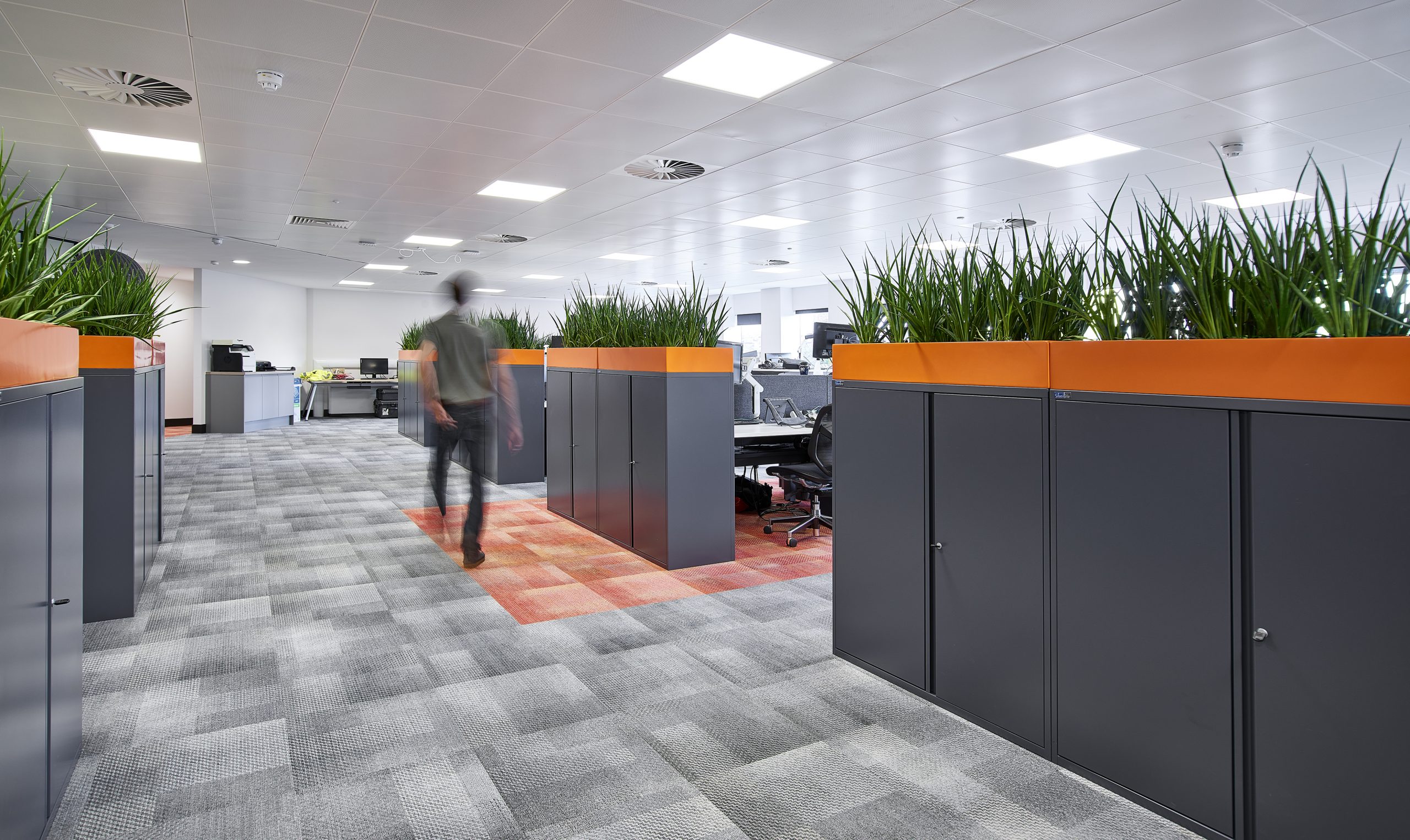 6) "Resimerical" planting
Furniture giant Wayfair describes the 'Resimercial' trend as a "layout and furnishing style that brings the homey feel of residential furniture into the workplace" and "celebrates commercial quality, residential-inspired features over the sterile and standardized feel of corporate furnishings."
The idea is to create a feeling of familiarity and comfort whilst remaining practical and productive. By borrowing comforting touches found within the home and adapting these for use in commercial spaces, interior designers have been able to create spaces which improve the wellbeing of staff, and increase customer spend. 
The trend predates the pandemic but is now gathering pace as workers return to traditional offices which unfortunately tend to be stripped of much of their connection to the natural environment. Plants were one of the leading ways home working was made more pleasant as seen by the steep increase in houseplant sales over the last two years. The Garden Centre Association reported that houseplant sales in 2021 were up 29.40% when looking at 2020 figures and up 50.19% on 2019. 
To replicate the sanctuaries created in home offices, consider using an eclectic mix of small, potted houseplants associated with the "Cottagecore" aesthetic. Nostalgia is especially powerful in time of uncertainty and create designs like the one above will bring comfort to staff and visitors alike. 
7) Plants for grid shelving
Grid shelving offers flexibility to workspaces providing the right mix of private and shared space. It allows for the simple and attractive division of space into zones for specific working purposes and social distancing without the cost of building walls. 
Grid shelving can be customised to include gorgeous, draped greenery, plants, and moss panels. The lighting and storage options available with this type of shelving can create a highly attractive visual and acoustic barrier.  Grid shelving also delivers levels of privacy between different working zones whilst maintaining a connection with the whole space.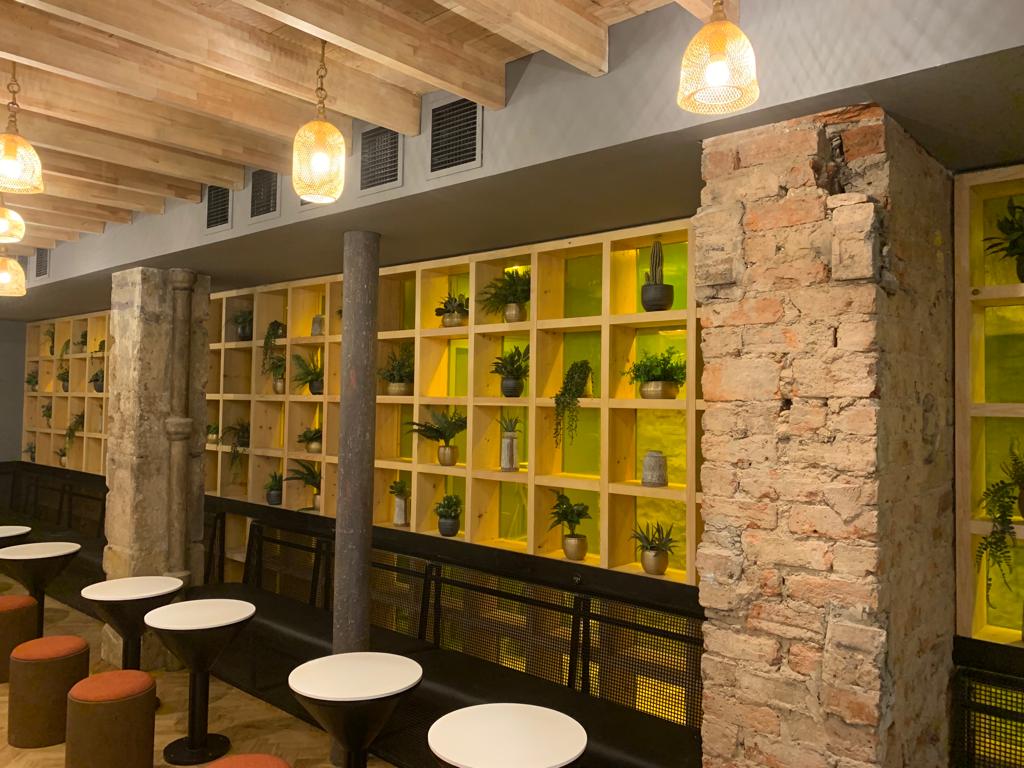 8) Trailing plants 
The popularity of trailing plants can be traced as far back as the hanging gardens of Babylon and they remain a great way to add wild, lush greenery in areas that are high up or difficult to reach. When placed on top of shelves or hung from the ceiling, trailing plants cascade downwards giving a feeling of abundance.   
Artificial trailing plants may be more suitable due to the inaccessibility of the areas they are commonly used. Even a perceived sense of nature can help to contribute to an environment that helps to attract talent, aid retention, and improve productivity, creativity, and mental wellbeing.  
To speak with a member of our team or obtain a free quotation, give us a call today on 01324 861300 or email mail@185.216.77.122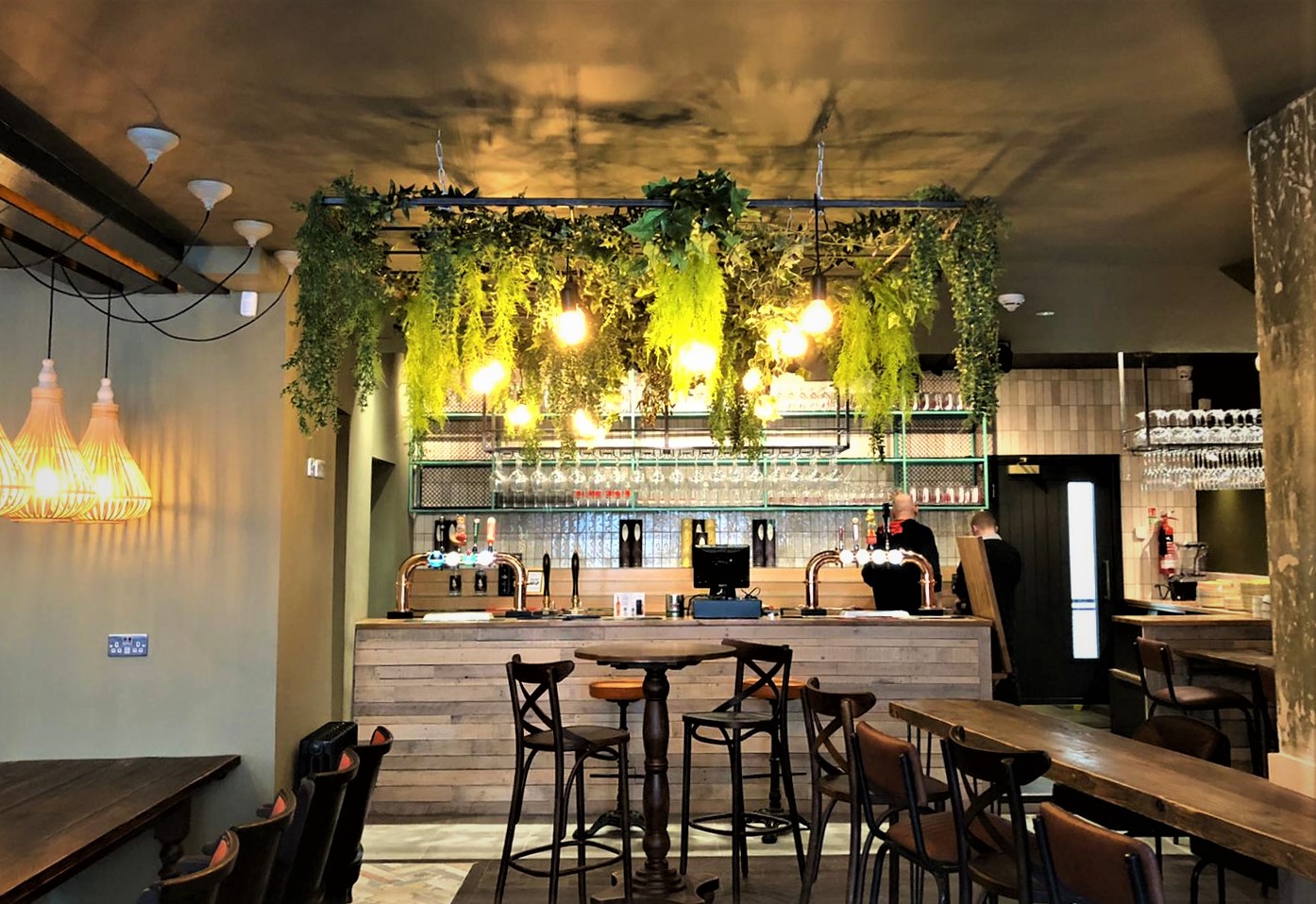 Resources
If you found this blog interesting you can share it with your network: