We recently had the opportunity to attend The British Council for Offices Winter Gathering where some of the UK's most influential designers and architects met to discuss the future of the office. The consensus was clear: the role of the office has changed and there's no going back.
The role of the office has changed
The traditional office model has remained largely the same for decades, but it is becoming increasingly apparent it is no longer sufficient for today's workforce. These days, employees can be productive from anywhere and many choose to work remotely meaning businesses will have to adapt office to stay competitive in today's economy.
This shift in thinking has led companies to reconsider what it means to create an office. Rather than just being a place where people go to work and leave at the end of the day, corporate spaces need to be a place where employees can be inspired and energized by their surroundings—a place where they can connect with friends and colleagues while taking advantage of natural light, fresh air, and greenery.
According to research from office rental platform Hubble, this has lead to a 238% increase in businesses looking for roof terraces in order to facilitate this need.
Hubble CEO Tushar Agarwal said: "In recent years, the everyday office has been completely reimagined as design becomes more important than ever and the facilities available increasingly impressive. Businesses are now very competitive when it comes to showing they can offer the best. The enormous leap in the searches for roof terraces is part of this – and who wouldn't jump at the chance to work outside when it's sunny?"
Beyond the typically impressive views, a rooftop terrace can serve a variety of functions which are beneficial to both the employer and employee.
Benefits of a rooftop terrace or balcony
Having the ability to escape from the confines of the office to enjoy some fresh air is a great way to soak up some Vitamin D whilst remaining productive. This essential nutrient is a powerful immune enhancer and protects us from colds and other infections which can cause periods of absence from work. Vitamin D is also a well-known mood booster and helps regulate your circadian rhythm. This is key to maintaining a healthy sleep cycle, and therefore, getting more done throughout the day.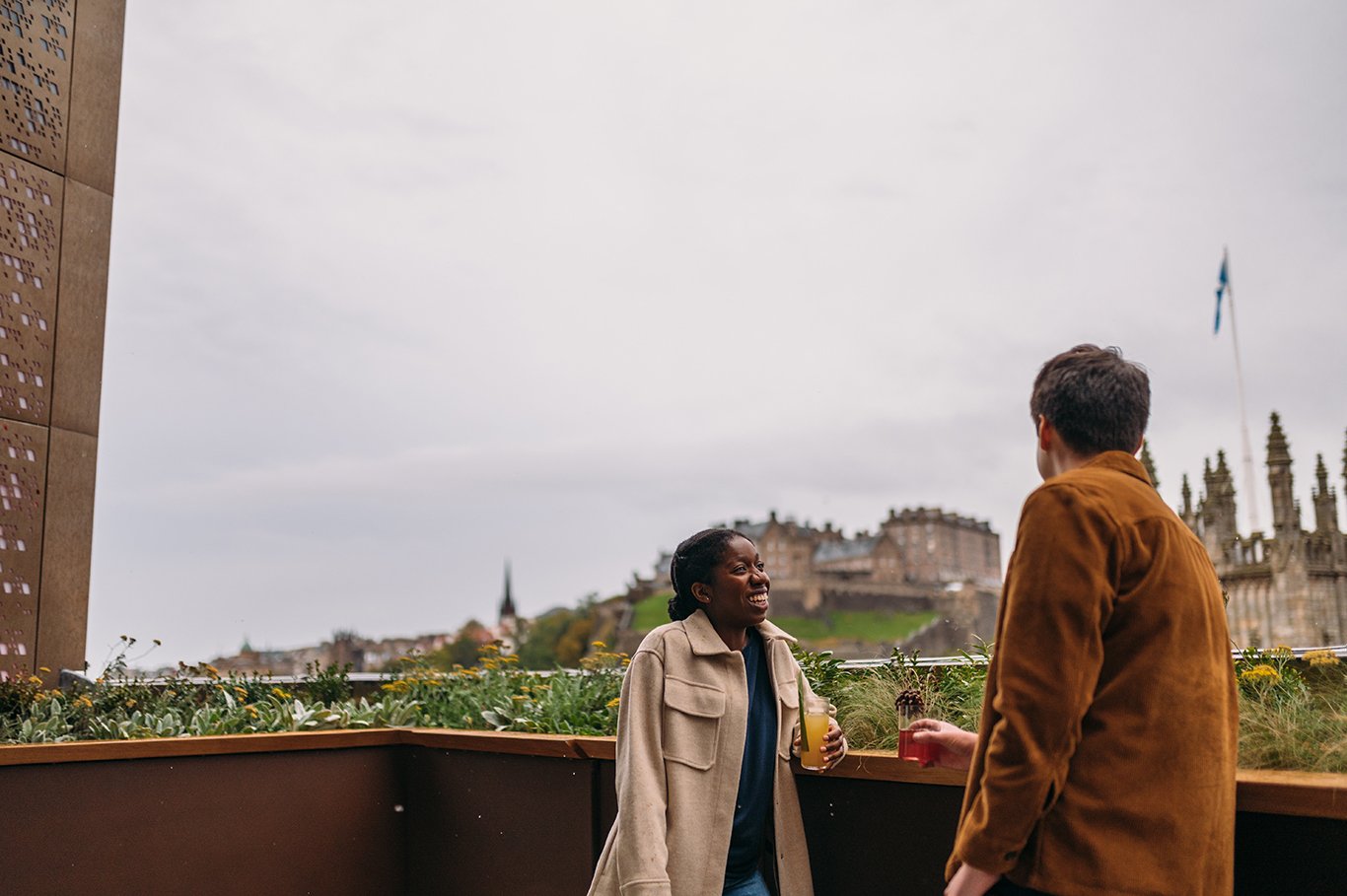 Making the most of your terrace or balcony
If you're lucky enough to have a terrace or balcony at your office, or are working on a project involving one, it's easy to get overwhelmed when you start thinking about the possibilities for the space. Some companies opt for additional features such as a barbeque or even a hot tub, however, you can still have a balcony that's simple, elegant, and functional with these three minimum requirements:
Whether this means chairs, benches, or stools; having somewhere comfortable and accessible is key when using your balcony as a productive outdoor space. We offer a comprehensive range of outdoor furniture that is both stylishly designed and made to last.
Balconies have different levels of exposure. Some are exposed to the elements while others are more sheltered by walls or trees – so we always recommend consulting an expert before investing in greenery for your outdoor areas. We can help you choose lush greenery which will thrive in your space as well as an extensive range of planters to complement the wider design.
A clean rooftop terrace can be an inviting place to relax, play, and host guests, whereas a dirty, rundown and unkempt terrace will have the opposite effect. We're experts in keeping your outdoor areas and greenspaces looking naturally beautiful all year long, throughout each transition of the seasons.
In the above example of a recent installation completed in Edinburgh, you can see the difference these three easy steps can make in just a few short hours. What was once an unused space is now ready to be an invaluable asset for the companies and employees using this building.
From the perfect furniture to that finishing flourish of greenery, our team are here to help you design the ultimate terrace or balcony for your office. To learn more, check out our gallery or contact us to discuss the possibilities of your outdoor space today.