Location: Waterloo Station, London
Size: 27,500 sq ft
Development cost: £8.5 million
Capacity: 1,775
Completed: August 2022
THE BRIEF:
In 2007, BrewDog founders James Watt and Martin Dickie decided they were fed up of the stuffy UK beer market… so, aged just 24, decided to do something about it. Thanks to some very scary bank loans, they were able to start making their own hardcore craft beers in Fraserburgh, a town in northeast Scotland. They brewed tiny batches, filling bottles by hand, and sold their first beers at local markets out of a beaten-up old van.
Fast forward fifteen years and BrewDog now boasts four breweries, five hotels and over one hundred bars. We are grateful to have witnessed their meteoric rise having worked on various BrewDog locations throughout the UK, and were incredibly proud to play our part on their most ambitious venue to date.
This relationship with BrewDog meant we already had a firm understanding of the interior design scheme favoured in their existing venues, and the types of planting which would complement this best. BrewDog is known for its edgy branding and punk ethos, and its bars and pubs reflect this aesthetic. The interiors are designed to be gritty and industrial, with exposed brick walls and concrete floors.
Our vision for the space was guided Surface-id; an award-winning interior design company with a stellar reputation in the leisure, hospitality and commercial industries. We have worked on some truly stunning projects with Surface-id and were confident that together we could create a space worthy of being BrewDog's global flagship bar. After an initial meeting at their offices in Glasgow, and our proposal was agreed, we got to work on one of our biggest ever hospitality projects.
THE SOLUTION:
A simple touch of greenery added to the exterior of your venue can really make a massive impact and help to attract potential customers into a pub, café or restaurant. As you approach the glass exterior (https://www.benholm.com/exterior-services/) of BrewDog Waterloo, there is a variety of plant types to be found in the seating area and at the bar's main entrance. This will help to mask the noise of the city and should be a popular spot for guests to enjoy a cold beverage in the summer months.
Inside, BrewDog Waterloo is a behemoth two-storey building with a mezzanine level packed with fun features. The expansive bar features dedicated co-working spaces and pods, micro-brewery, a GRIND café, cocktail hideaway, duckpin bowling alleys, podcast studio, meeting rooms, not-for-profit floristry, and a retro ice-cream van with serves from the award-winning Hackney Gelato.
The ground floor contains the main bar area, with a variety of seating areas and a large central island bar, while the mezzanine level contains a number of private hire spaces, a games room and a secret cocktail bar. The main area of the venue follows the usual BrewDog industrial styling, with the walls stripped back to the building materials, filament style lights on wires and with pipework and cable ducting visible. The look is completed by the steel staircase, tables and furniture which keeps the industrial "function before form" look.  
Surface-id put a lot of thought into how the spaces will flow and how customers will move through them, using furniture and decor to create different 'zones' within the bars, so that there's always somewhere to sit, stand, or mingle.
Groups of live and artificial floor standing planters were used on each floor alongside small potted plants on grid-style shelving. These were supplied in a range of grey natural stone, concrete finishes and were planted with a mixture of artificial and live plants at different heights.
Grid shelving delivers levels of privacy between different working zones whilst maintaining a connection with the wider setting.  It allows for the simple and attractive division of space into zones for specific purposes without the cost of building walls. 
A scattering of potted plants has become a popular trend in bars and hospitality settings. Not only do they add a touch of greenery to the space, but they can also help to absorb noise and create a more relaxed, homely atmosphere. And because they are mobile, potted plants can be easily rearranged if the layout of the bar needs to be changed.
Our biggest challenge during the project came when installing two large statement trees at either side of the main bar on the ground floor. These had to be assembled in parts and mounted into heavily weighted metal cube containers. Standing tall and majestic at 6m, an artificial tree can add instant charm and appeal to any space. Whether you choose a stately palm tree or a graceful ficus like we used here, an artificial indoor tree is a wonderful way to bring the outdoors inside. And because they're made of durable, fully fire rated materials and don't require any sunlight or water, they'll last for years with minimal care.
THE RESULTS:
BrewDog Waterloo is a pub like no-other. Clocking in at a mammoth 26,500ft – the two-floor, 1,775 capacity space will give commuters plenty of reasons to catch a later train home.
Plants are integral to the interior design at BrewDog Waterloo. In fact, without plants, there would be no BrewDog. Afterall, if there was no humilis, the common hops, there would be no beer or real ale. In addition to being a vital ingredient in the brewing process, plants also add a splash of colour and soften the space by offering an alternative silhouette to the square and sharp edges associated with industrial-style interiors.
Located in the heart of London, this trendy bar is just a short walk from some of the city's most famous landmarks. Whether you're looking to try one of their signature beers or sample something new whilst surrounded by lush greenery, you're sure to find something to your taste at BrewDog Waterloo.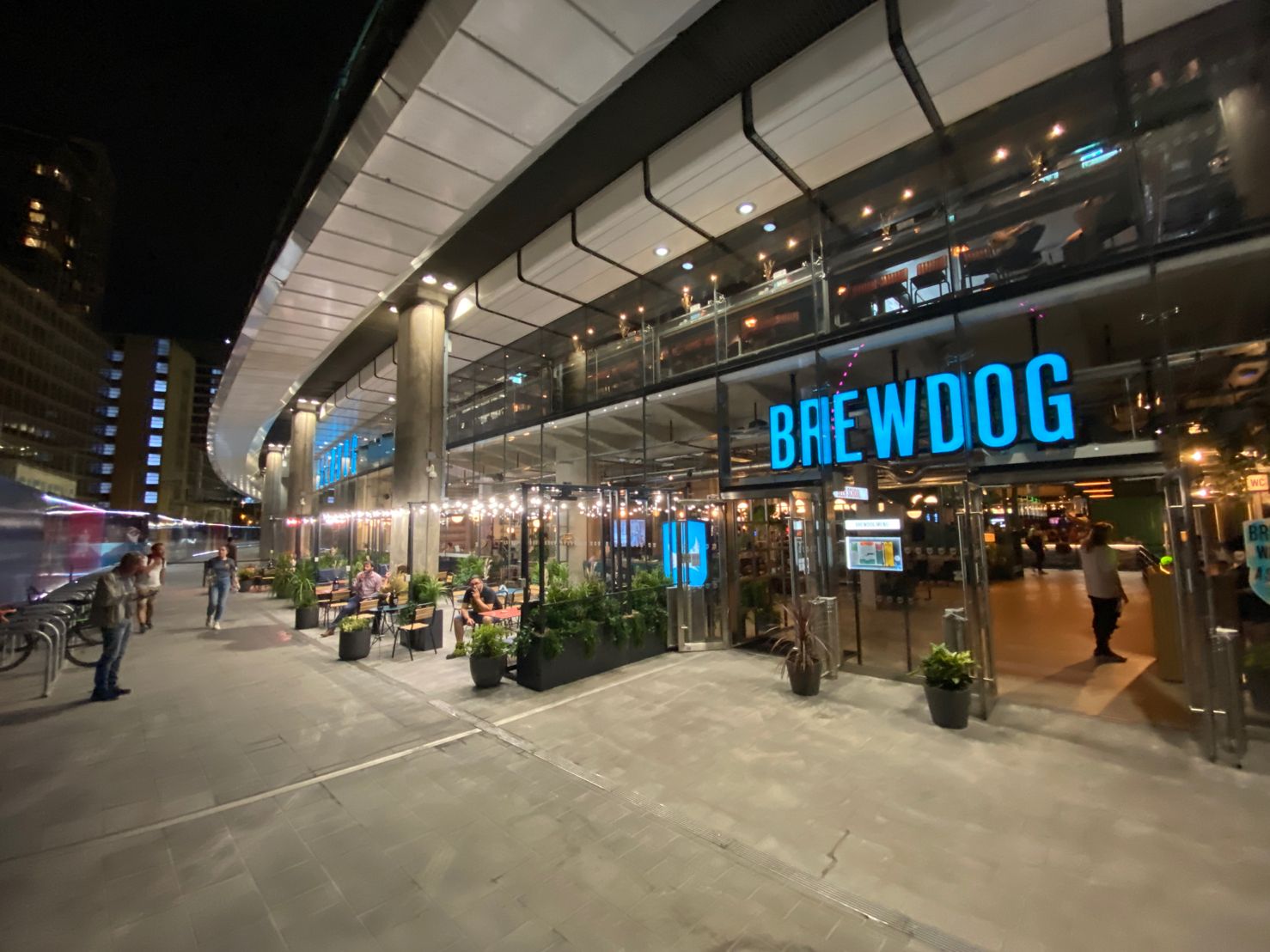 We have created plant and floral designs for bars, hotels, and restaurants across the UK and you can get everything you need from us, from design to installation to maintenance. Our breadth of products, with options to suit any budget, means we can turn your ideas into reality no matter how big or small your project. Get in touch to discover all the possibilities of our plants and floral designs for your venue.