Having previously worked on several successful projects with MD Hospitality, we teamed up once again to collaborate on the refurbishment of the exterior of Moyra Janes in the Southside of Glasgow.
THE BRIEF:
Moyra Janes have been serving a delicious breakfast, lunch and dinner menu to the people of Glasgow since 1991.
Located on the corner of Kildostran Street in Pollockshields, the exterior had began to look tired in recent years, and the limited amount of outdoor seating they had was exposed to passing foot and road traffic.
After obtaining permission to expand their alfresco dining services, Moyra Janes wanted to modernize their exterior and create a comfortable space where customers can enjoy their favourite drinks and dishes.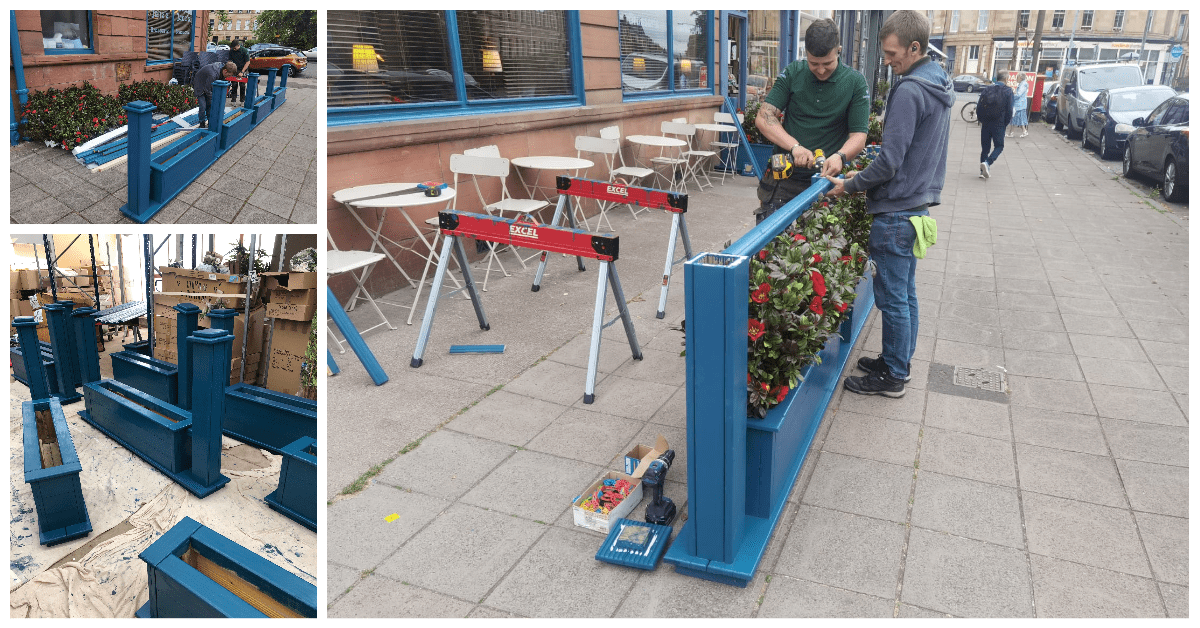 THE SOLUTION:
Eating outdoors is one of life's simple pleasures, but as venues have learned over the last few years, it takes more than placing tables and chairs outside your venue to create an effective outdoor dining space.
One of the main challenges of outdoor dining on a busy street is the potential for disruption caused by passers-by and noisy, smoggy vehicles. Barriers with integrated planting like the ones we installed here are a simple, quick and attractive solution to provide respite from these elements and give patrons a sense of privacy when dining.
Our talented design and construction team handcrafted ten bespoke timber planters in our warehouse and carefully painted them with a petrol blue finish to match the brief given to us by MD Interiors.
The planters were then filled with leafy artificial plants, geraniums and poppies, using the most natural looking and durable products to ensure a truly special look that requires no special care or attention.
One the day of installation, we worked quickly and effectively to minimise any disruption to the business. As the barrier planters were pre-built in our greenhouse, we were able to complete installation within a few hours meaning Moyra Janes could resume welcoming guests that same evening.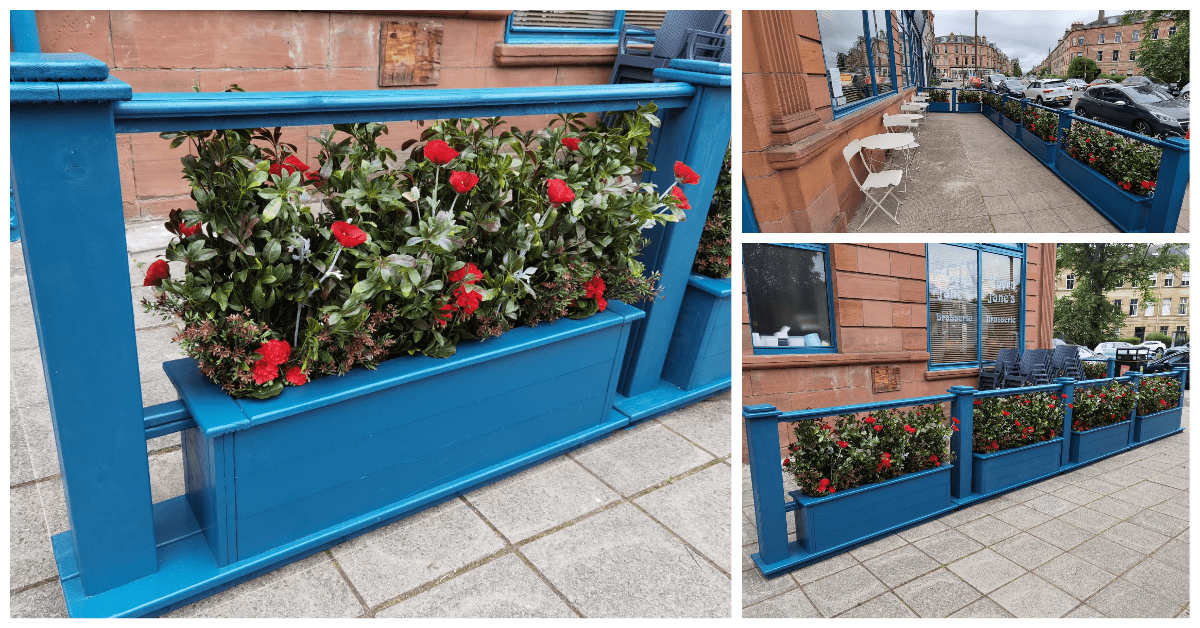 THE RESULTS:
"We have been delighted with your service" – Michael Dunn, CEO of MD Hospitality
A warm welcome now awaits diners at Moyra Janes.
With a fresh, modern colour scheme, and plenty of vibrant, lush planting around the perimeter; Moyra Janes now looks infinitely more inviting than it did before refurbishment.
Together with MD hospitality, we have helped increase their capacity for outdoor dining from 8 seats to 28, providing a valuable source of income this summer and in the years ahead.
We have the outdoor dining furniture, the creative passion, and of course the plants to design and install the ultimate outdoor dining area, for any hospitality venue in Scotland.
Our unique ability to offer truly all-in-one outdoor dining area design, including your branding, makes Benholm unmatched for service and value in the Scottish and UK market.
Thinking of enhancing your outdoor area? For a hassle-free service that is bursting with creativity get in touch today.
Resources: